ZyXel NSA-2400 network attached storage box
Four-drive central storage for your LAN
The drive set-up utility provides five configurations, and does a decent job of explaining the options to the non-technical users. You can combine the drives into a single volume, either using one after the other (JBOD) or striping the information across all four drives for higher performance (RAID 0). You can mirror the drives to reduce capacity, but allow protect the data, but with enforced striping too for higher speeds (RAID 10). RAID 5 is available too - it sacrifices write speed, but gives you more capacity and higher data security than RAID 10. Finally, you can set three of the drives into RAID 5 mode, reserving the fourth as a spare in case one of the others fails.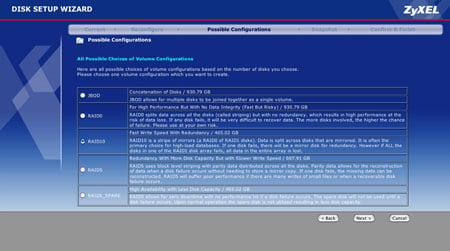 Zyxel's NSA-2400: drive configuration screen
Click for full-size image
Which you choose depends entirely on whether you value capacity over security or vice versa. You get a good selection of alternatives, but not so many that you're left umming and ahhing between two or more very similar just slightly different options.
Plugging in a USB disk makes it accessible as a public share. Anyone can read and write files, provided the disk is FAT-formatted - NTFS disks are read-only. Linux EXT1, EXT2 and EXT3 formats are supported too.
What drives you install is up to you. ZyXel sells the NSA-2400 without drives, so you can pick whichever brand of drive you prefer or just go for the cheapest. That's also true of a more consumer-centric NAS box like Netgear's SC101T Storage Central Turbo unit, though it only offers two drives. Still, it costs around £120 to the NSA-2400's £520, though you can get the ZyXel for as low as £420 if you look. A four-drive, 1TB LaCie Ethernet Disk RAID currently costs around £589, but since you can buy four 250GB hard drives for the difference, there's really nothing in it, though the LaCie, unlike the ZyXel is hot-swappable.
Verdict
ZyXel's NSA-2400 is a solid, if uninspiring, network storage unit. It gives you the flexibility to add your own drives - which also keeps the up-front cost down - but doesn't scrimp on the features you need to make the most of the machine. The look's a bit corporate for us and the price is totally par for the course. It doesn't excite, but then it won't disappoint either.
Sponsored: Minds Mastering Machines - Call for papers now open

ZyXel NSA-2400 network attached storage box
Centralised, easily configurable and shareable storage in an business-friendly box
Price:
£420-520 inc VAT RRP