Evesham Zieo N500-HD 17in laptop
Evesham tempts us with Intel's 'Santa Rosa' notebook technology
When we pulled the power cord to run on battery the screen became very dark indeed so we checked the extensive Vista power scheme settings and found that the screen was set to drop to about 20 per cent of maximum brightness. We increased the brightness to 50 per cent and re-ran the battery test and found that the battery life changed by an insignificant amount. In both cases, the PCMark05 figure was very low compared to the test results that we got on mains power.
Battery power test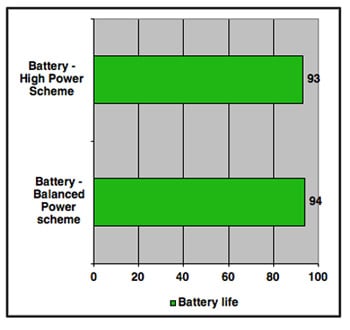 Time in minutes
Longer bars are better
In particular, the CPU performance was much lower on battery so we checked the settings in Vista and found that the Balanced Scheme caps CPU performance at 75 per cent, which is reasonable enough. The High Power scheme allows 100 per cent CPU performance on battery, so we re-ran our tests and found that the performance didn't budge, and neither did the battery life. The significant thing is that the power scheme suggested that the laptop would deliver full performance while running on battery yet this clearly was not the case.
PCMark05 benchmark tests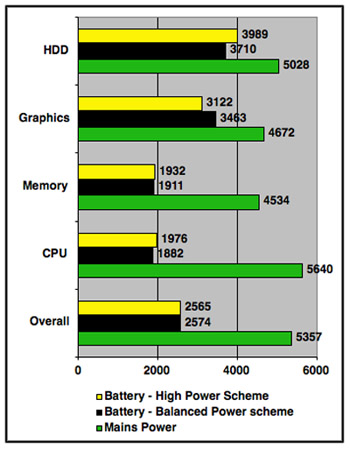 Longer bars are better
We can only conclude that either the Bios or the 965 chipset is taking precedence over the settings in Vista to decide what sort of performance you should get when you're running on battery. We don't much like that and firmly believe that he who pays the piper should call the tune.
3DMark06 benchmark tests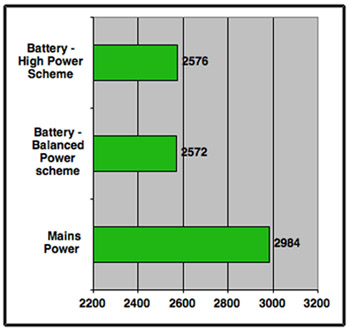 Longer bars are better
Verdict
Evesham has delivered impressive latest-generation Centrino Duo power and a useful Media Centre laptop. However, we didn't much like the laptop's look, and we were also troubled by the disparity in performance when we used the machine on battery, even when we had all of the performance sliders set to max.
Sponsored: Minds Mastering Machines - Call for papers now open

Evesham Zieo N500-HD 17in laptop
Zieo can perform well on the mains, but it fails to come together as a package. Must try harder...