Sun's new supercomputer and switch are bigger than yours
Market's 90-pound weakling beefs up
Why so huge? Bechtolsheim explains when it comes to InfiniBand, cables begin to cost more than the silicon itself. By putting everything in one box, he claims the switch has a 6:1 reduction in interconnected cables than if they used traditional switches to match the specs. Sun also decided to build its own because nobody has a switch large enough, and bottom line it was cheaper to make its own for the project.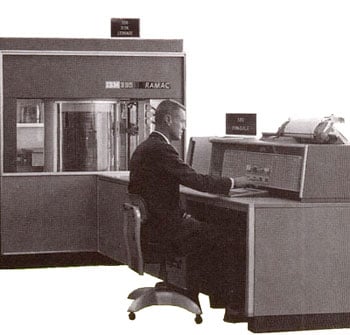 Sun PR has yet to supply us with a picture of Constellation
Sun will craft scaled down versions of the switch for HPC customers.
The "Constellation" boxes also tap Sun blade servers using AMD's forthcoming quad-core processors code-named Barcelona. These particular blades are new four-socket versions of Sun's recently released two-socket 6000 blades made specifically for high performance computing.
TACC's system will be outfitted with the blades in the next quarter, and the new blades will then be available to the not-so-general public in the fourth quarter.
Each Constellation configuration is centered around a design that accomdates 48 blades per rack with 16 cores per blade.
Sun won't talk exact price figures, but the total reward for the Ranger contract is $59m. Sun says the hardware cost is somewhere below that. The company will begin to assemble Ranger in TACC's new building constructed for the computer "shortly." It will take about two months to set up the beast. Cable assembly alone is expected to take about four weeks.
An exact time frame for Ranger's booting, however, remains hazy. A key ingredient is missing — the chips. Sun chose AMD's quad-core Barcelona for its superior floating point performance, but has yet to receive the package in the mail.
"We have a contract to get the chips in time for building the computer, but we haven't gotten them yet," Bechtolsheim said.
In fact, Sun is resting the entire Constellation line on its laurels while it waits for Barcelona's arrival. Sun assured reporters that the product launch it was announcing was not in fact a product launch, "but a strong indication that one is on the way." But trucks rolling into Texas full of Constellation systems destined for a newly-constructed building in an supercomputer center made keeping silent about the affair somewhat of a sticky wicket.
Sun's showdown will begin in Texas, but the company promises it is aggressively seeking bigger project bids. Bechtolsheim said he hopes to see Ranger in the top position in November's Top500 ranking of supercomputers. Even if a faster competitor pops up, he is sure it will make one of the top spots.
And then comes fruit baskets. Oh, the plantains are to die for! ®
Sponsored: Minds Mastering Machines - Call for papers now open