Casio Exilim EX-Z75 and EWC-10 underwater case
Diving with a digicam
Casio offers an underwater-photography casing to go with the EX-Z75, and we took the opportunity of an overseas trip to a rural Cretan villa - pool included - to try it out. The camera fits neatly into the underwater casing - dubbed the EWC-10 - cushioned with a couple of rubber pads. All the controls are replicated, so using the camera beneath the waves should be just as easy as using it on land.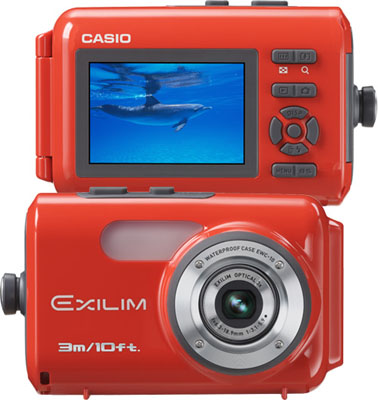 Casio's EWC-10 underwater casing
Shutting the case is just a matter of clicking the lock into place - just pull the latter out and twist it to open the latch and free the camera. Casio has moulded a small bay inside the case in which you place a silica gel sachet - ten are included with the casing - to absorb any condensation that might otherwise interfere with the camera's electrics or optics. It also supplies a wrist lanyard with a tie to ensure it doesn't slip off your wrist while you're swimming.
Casio recommends trying the case out in five inches of water to make sure the seal works as promised, but in a true spirit of consumer adventure we chose to utterly ignore the usually unread manually and leap straight into the pool, camera in case.
A lack of bubbles escaping from the case suggested the camera was safe within, so it was activated and the submersed snapping started. The results were good: all the keys connected with the buttons on the camera that they were supposed to, and we was able to zoom in and out, take pictures and make adjustments.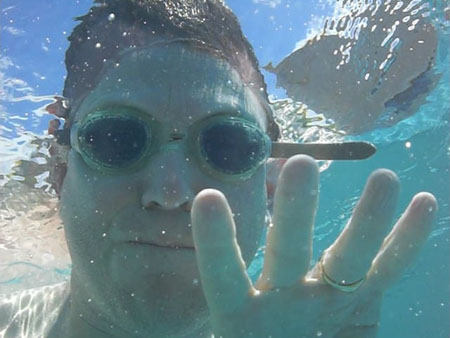 Our illustrious editor does his Nirvana album cover impression
One flaw with the EX-Z75 is that its LCD is darker than some, and while it's easy to shield from sunlight when you're taking a picture out of the water, that's not so easy to do underwater. Being a contact lens wearer, I had my swimming goggles on and these are tinted, making it even harder to see the screen and frame the shot.
Go deeper and this is likely to be less of a problem, and if you're using tanks or even just a snorkel, you can at least take the time to arrange the hand that's not holding the camera to steady the device and shield the screen. But you really notice the lack of an optical viewfinder, and the underwater casing could be improved no end with just a fold-up sight.
Verdict
First, the camera. Casio's EX-Z75 is a lovely little snapper that'll help you take a decent shot, no matter how ignorant of photographic procedures you happen to be. Squint into a picture blown up to 100 per cent on a computer screen and, if you're a photography buff, you may spot noise creeping in - at high sensitivity settings you won't have to try too hard. But on a standard-sized print, run out by a good print-making service, you shouldn't be disappointed.
Especially if you've used the EWC-10. It's not a cheap add-on, but it's hard to put a price on the fun you'll have with it, particularly if you get out into sea in search of colourful marine life. Even messing around in the pool was a hoot, and if you're after an EX-Z75, you should certainly avail yourself of the EWC-10.
Sponsored: Minds Mastering Machines - Call for papers now open

Casio Exilim EX-Z75 and EWC-10 underwater case
On land and - thanks to the EWC-10 case - underwater, Casio's EX-Z75 is a darn fine snapper...
Price:
EX-Z75: £180/$200 - EWC-10: £75/$100 RRP