Sweaty spooks feel the heat as NSA runs short of juice
Sweeping powers yes, electrical power no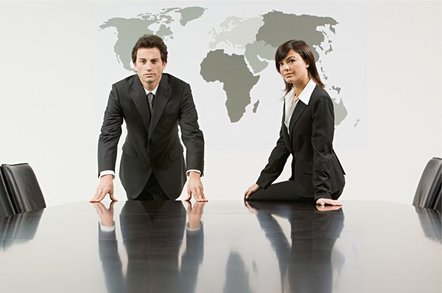 The National Security Agency (NSA), America's ultrasecret electronic spy agency, may be on the verge of a disastrous power overload at its Maryland headquarters.
According to the Baltimore Sun, energy supplies to the NSA's Fort Meade head-shed have been under strain for some time, with problems reaching a critical level last year. The secretive spook agency's love of uber-fast supercomputers has apparently sent demand surging beyond the ability of the local grid to cope.
Drastic measures have already been introduced to redistribute and ration power. Some offices were reportedly left unheated last winter, forcing staff to work in gloves and coats. The work of a typical NSA employee is keyboard based, and the Sun reports that the freezing offices "made for challenging typing."
Now that summer is arriving, power demands are expected to get even worse, as high-powered computers belch heat into overburdened data-centre cooling systems. Apparently the air-con for humans has already been throttled back.
"In the morning, it's like a sweatshop," grumbled one perspiration-drenched spook to the Sun. Conspiracy theorists will no doubt be overjoyed at the prospect of being able to detect some of the most feared federal operatives by smell, or perhaps damp patches on their black suits.
There have also been planned, rolling brownouts and other measures to redistribute power at Fort Meade. It seems that these days, if you are a lower-priority enemy of America, your scrambled satphone call may not get decrypted until the weekend - when there's enough electricity to fire up a few more Crays. If you're a US citizen making an international call, your warrantlessly-obtained wiretap recordings may not get analysed until a cool day comes along.
It isn't just the ordinary working spooks who are sweating as they pore over intercept traffic and argue about the black-helicopter fuel bills (or whatever). NSA chiefs have also been taking a grilling on Capitol Hill, as oversight committee members criticise them for not sorting matters out sooner.
It seems that the current power situation at Fort Meade was being foretold as long ago as 1998, but no serious rectification efforts began until last year. Even then, reportedly, NSA bigwigs had to divert funds out of important spying efforts owing to failure to plan ahead - and omitted to ask for permission. Not so much a question of watching the watchers, as one of there being no watching to watch.
Plans are in hand to fix the problems, backed up by more than $800m in funding increases for the NSA in the coming year. Even so, it could be a summer or two yet before the spies come back into the cold.
Full details from the Sun here.®
Sponsored: Minds Mastering Machines - Call for papers now open