Samsung punches out 64GB SDDs
Samsung now purports to be the largest producer of high-capacity solid-state drives (SSDs) in the world, following a decision to push its 1.8in 64GB unit into mass production.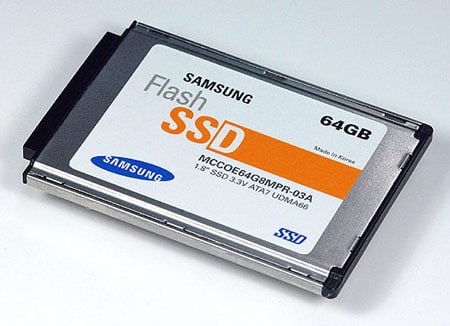 The manufacturer has been touting SSDs for over a year now, but this is the first time it has mass produced the 1.8in drives. The production ramp-up comes less than one week after Toshiba announced its lightest ever laptop, which features a 64GB SSD.
Samsung claims SSDs are increasing in popularity, thanks mainly to their greater reliability, faster data-access times and reduced battery consumption, compared to standard HDDs.
The SSD market is becoming increasingly competitive. Samsung's 1.8in 64GB SSD was announced in March, just two months after SanDisk showed off a 1.8in 32GB SSD.
Dell has also begun offering its customers SSDs, though not to the extent of Toshiba, by allowing buyers of its Latitude D420 sub-notebook to kit out the machine with a SanDisk 32GB SSD.
COMMENTS
Wear leveling makes it possible.
That's called "wear leveling" and it's been a feature of flash controller chips for many years. Read http://www.dansdata.com/flashswap.htm for some perspective.
Yes, you are
The "100,000 writes" figure quoted for flash memories refers to the maximum number of writes to any particular sector. Within the SSD it's possible to monitor heavily used sectors and re-map them to "spare" portions of the physical memory if and when necessary. I don't know whether the Samsung drive does this.
Am I missing something here?
Hang on a minnit! These are Flash drives, right? And flash typically has a write-cycle life of 100,000 writes! So what is the point of these? It takes 8 hours for a flash-stick install of Windows XP to use up those 100,000 writes. So I'm left wondering what the practical use of these are - unless they've now gotten to infinite-write-life for Flash.
Errr, have they? 'Cos if not, then I'd not touch one of these with the proverbial!