Acer TravelMate ProFile 6292 business laptop
Acer's... um... ace up its sleeve?
Round the left-hand side you'll find both USB and Ethernet ports and a PC Card slot. Over the other side is the DVD tray, modem port, two more USB sockets and a card reader that will take SD, xD and Memory Stick media. The bulk of the rear of the machine is taken up by the six-cell battery, but there's also VGA and s-video connectors and a mains power input. There's a webcam built into the top of the screen, but it isn't independently adjustable so you'll need to move the whole screen if you're not in shot.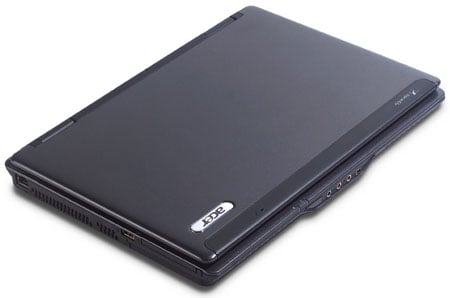 The review unit came with Vista Business pre-loaded, but according to Acer the 6292 will initially ship with Windows XP Pro installed instead, with a switch to Vista coming later in the year. The price will be the same regardless of which operating system is installed.
According to Acer, the battery should last for five hours, which obviously isn't sufficient for a full day away from the mains but should be enough if you spend most of your time plugged in at a desk.
The 6292's asking price of £1029 is reasonably when you consider what you're getting, although it could do with a slightly bigger screen and roomer keyboard given that there appears to be space available in the chassis.
Verdict
The TravelMate 6292 certainly feels well built and able to stand up to the harsh life on the road. While you'll obviously still need to exercise some care when handling it, it should be able to take the odd knock or bump without keeling over. It doesn't quite fall into the super portable, take-everywhere-you-go category, but it's not far off. When it comes to performance, you shouldn't have any complaints in terms of office apps or Windows work, but it'll struggle more if you try and throw games at it. But this is a business laptop, so you won't be playing games on it, will you?
Sponsored: Minds Mastering Machines - Call for papers now open

Acer TravelMate ProFile 6292 business laptop
A sturdy office performer that should be able to take in its stride a bump or two on the road...