Here comes the summer - holiday kit on test
The gadgets you shouldn't leave home without
Round-up Packing your bags for the annual sojourn overseas is getting more complicated every year, as the lines of what is and isn't essential gadgetry blur ever further. Which is why we've rounded up some of the tastiest travelling technology currently on offer. Something for everyone, in fact...
Sony CDX-HDR70MW MP3/CD player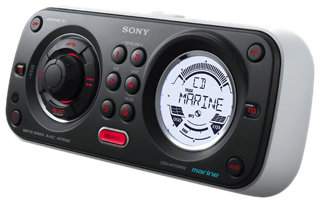 Tougher than old boots yet sleeker than any Jimmy Choos, Sony's latest marine audio gadget takes the company's superb in-car AV knowhow and transfers it from dashboard to deck.
The CDX-HR70MW head unit certainly looks the part, decked out as it is with big boaty round dials, a distinctly nautical screen and chunky, well-lit buttonry. And as you'd expect from a boat-based unit, it's built to withstand whatever Poseidon deems necessary to throw at it. Salt and UV resistant with a splash-proof fascia, it's sealed to IPx5 standards and is supplied with a natty plastic cover for weathering the white squall.
Sonically, it's a CD player that can also handle data discs containing MP3, WMA, AAC and ATRAC tracks. With two pre-amp outputs you can expand the system with added amplifiers, there's an on-board three-band equaliser and the display is specifically designed for high visibility in even the brightest conditions.
Released at the same time, Sony has also designed a range of high-end speaker rigs to complement the HDR70MW. The XS-MP1610W features a two-way design with separate tweeters; the XS-L100P5M is a 10in marine sub-woofer with 800W peak power; and the XM-604M4/3 offers a 600W peak power rating and is rust and UV resistant. Mix and match as you see fit and unfettered fun in the big blue awaits.
Sony CDX-HDR70MW MP3/CD player
---
Don't ride the ocean waves, dance over them...
Olympus Mju 770SW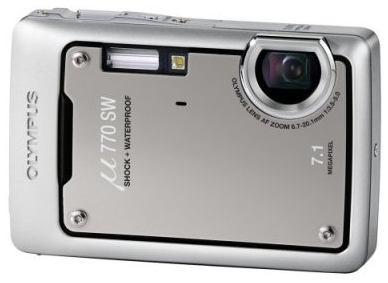 The diminutive dimensions of Olympus' 770SW belie the truth that this is in fact the hardest digicam ever created. For that slick steel livery ensures this boy is waterproof to a whopping 10m - adios cumbersome water housings - shockproof to falls of 1.5m, freeze-proof to -10°C and crush-proof to a weight of 100kg. So you can take it pretty much anywhere you can survive. And would still want to take pictures.
What this means is that for anyone who likes to get extreme in their holidays, they now have the tool for capturing their craziness. If you're a little more Ian McCaskill than Indiana Jones and are more interested in the sun and sights, the Olympus is equally at home. General knocks, seawater and sand pose no problems.
Don't break out the sunscreen yet, though, as there are some niggles. The 7.1-megapixel sensor takes decent but not great pictures when compared to some similarly priced rivals, largely thanks to noise creeping into shot at higher ISO ratings. The features list is a little thin. There are 24 scene selections, however, including suitably sporty options like underwater macro, underwater snapshot and two wide-angle modes.
But this is all really missing the point, because this camera can take pictures every bit good enough for your family album, and it won't come back from your holiday any the worse for wear. Unlike you if you plan to test it to the full.
Olympus Mju 770SW
---
Go hard or go home, the 770SW is ready. Are you?
Sponsored: Minds Mastering Machines - Call for papers now open