Digital data can bite you in the ass, researcher warns
Beware of those contributions on Flickr and Myspace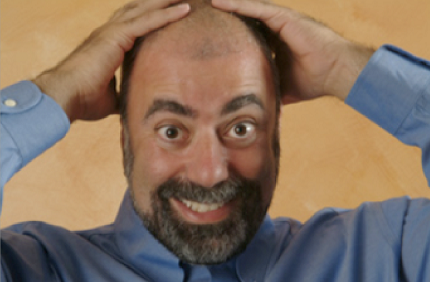 There are also more immediate ways to monitor someone. A service provided by World-Tracker makes it possible to monitor the real-time location of cell phones anywhere in the UK. "I registered my girlfriend while she was in the shower," Klein joked.
If there was a shortcoming to Klein's presentation, which was titled "Perfect Data in an Imperfect World," it's that he never articulated a solution to the problem. "I want to be able to control my digital information, I need some sort of digital rights management," he said, without elaborating on how we might bring such a thing about. "It would be nice if digital materials had a limited life and limits to accessibility." Yeah, and we'd like to eat ice cream three times a day, too.
Lest Klein appear as an alarmist, it's worth noting that he's not squeamish about collecting, and in many cases, sharing huge amounts of information related to him He records a wealth of information relating to the environment around his home, including its location, hot water usage, lighting, temperature and air-conditioning activity.
A few minutes after his talk ended, he checked one graph he makes publicly available and was able to deduce that his girlfriend probably took a shower the previous night around midnight. He also detected that there had been lightning earlier that evening. His site also includes plenty of other details, including his phone number, postal address and global positioning system coordinates for his home located in Pittsburgh, Pennsylvania.
"What do I have to hide?" he said with a shrug. "Because all that information is elsewhere, I'm not worried about publishing it."
But he closely guards other information. His MacBook Pro, for instance, logs every IP address he uses to connect to the net and periodically snaps an image through the laptop's built-in camera. He permanently logs every incoming and outgoing cell call. While he archives this data, he doesn't make it available publicly.
Ultimately, Klein's message seems is that we must recognize that there is no way to recall anything we say or do publicly, and therefore we have to balance the benefits of having digital data against their risks.
"When you're in a position to publish the data," he said, "just be aware of what can be done with it." ®