Welcome to Xanadu-on-Thames
O2's big wireless tent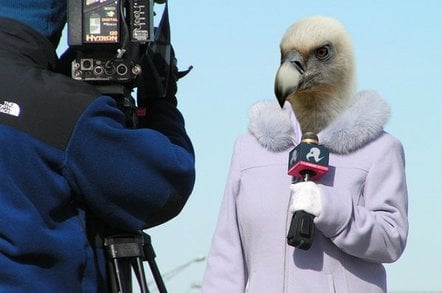 This Sunday the wraps come off what used to be the much-unloved Millennium Dome, and is now the really-hopes-to-be-loved O2. When El Reg fluttered in this week it looked like the opening event was an audition to play the construction worker from the Village People. But it's just that it's not finished yet.
It's no surprise the heavy lifting gear is still in place. The scale of the dome, sorry the 02, is massive. The finished venue will contain a 20,000 seat arena, a 2,200 seat venue/club, a cinema complex, bars/restaurants and shops. Yes, it'll be tough to pick between Pizza Express (pizza and pasta) and Zizzi (pasta and pizza).
And just to remind you we're in London, not Tuscany, traditionalists can fill their boots at the Slug and Lettuce. If all this chainery makes you think you've wandered into an airport, not a cultural landmark, you can always unburden yourself at the multi-faith chaplaincy.
Seven year bitch
In case you've forgotten – it is seven years after all – you can fit 12 football pitches into the place, or 18,000 double decker buses. Our favourite stat is that you can fit 3.8 billion pints of beer into it. Perhaps if they had it would have been a success first time round. In its rebranded, unopened state it really is on a par with a Bond Movie filmset, or the pleasure palaces of Las Vegas, without the soul.
Then again, this is the 21st century, and soul and character can be arranged after the fact. What should be finished by Saturday is the technology side of things.
American leisure giant AEG may own the place now, and will be responsible for lining up the talent, but it is mobile telco 02 and electronics giant NEC which will be sweating buckets this weekend as the tech infrastructure gets tested in anger.
The venue will be held together by 49 NEC servers, with 15,000km of cable, 320 WLAN hotspots, and an RFID system to track staff, and at some point in the future, customers such as children or corporate hospitality junkies.
An NEC spokesman said the sort of customers snaffling up the venue's hospitality suites would expect to be able to access their own corporate infrastructure, presumably logging onto their email whenever Barbara Streisand does something from Yentl or Elton John sings the Lion King theme.
NEC also provides the kit for what should be the UK's, and possibly Europe's largest high definition digital cinema screen at 22 metres. A quick blast of the latest Harry Potter trailer left us agreeing that yes, it is undoubtedly impressive, once our ears stopped bleeding and we could hear the question.
Never mind the hotspots, where's the server systems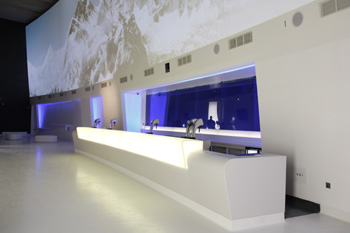 O2 comes into its own with the touchy-feely consumer experience side of things, using all the ideas it's been playing with at the music and sports events it's been sponsoring over the last few years.
So, O2 subscribers will be able to buy tickets for events before they go on sale to the general public. They'll have maps of the venue sent to their phones. They'll get access to their own bar, the O2 Blueroom – once they've sent a text (standard rates apply) and received the appropriate download to their phone.
Once they're in this exclusive bar, along with any other customers of the UK's largest mobile operator, they can choose what tracks they want to hear on the bar's sound system (50p plus standard text rate) and even pick the "wall paper" projected on the wall (standard text rate).
Once customers take their seats they can text messages to the screens above the stage, or send cameraphone pics. On the way out, concert goers might have pics of the just finished gig downloaded to their phone and sent to their email address.
When asked if some concert goers might find all this phone activity annoying, an O2 spokesperson said "good luck if they can hear".
The operative word here seems to be "the experience". Once clutching a rapidly disintegrating ticket in a queue before standing on and ultimately smashing up a creaky old cinema was what rock and roll was all about. Now, it appears, both the kids and the suits in corporate hospitality want to insert themselves into the talent's videos and have the footage sent to their mobile, choose their own music in the 02 bubble's silent disco, and have their own grimy mug up on stage with the band.
A pleasuredome, erect
As for actually encouraging kids to pick up an instrument and learn to thrash out two or three chords...where's the branding opportunity in that?
When we were there, there were queues of people outside. As far as we could gather they were applying for the service jobs the venue is set to spawn. As fast as they were coming in the front door, others were piling out of training rooms at the back, in their new matching outfits. We saw scores of navy-clad venue staff, 02 blue shirt wearing staff, catering staff in black, and scores of men in red logo boiler suits.
If Auric Goldfinger or Ernst Stavro Blofeld had decided not to try and blackmail the world but to put their talent into the leisure and entertainment industry, it would surely have looked something like this. ®
Sponsored: Minds Mastering Machines - Call for papers now open