Evesham 26in Alqemi V and VX HD TVs
Hi-def, lo-price
This became particularly evident while watching a trashy early afternoon chat show - for review purposes only, of course. The faces of the two presenters - we'll call the Adam and Sarah - appeared either too dark to too white and over-saturated.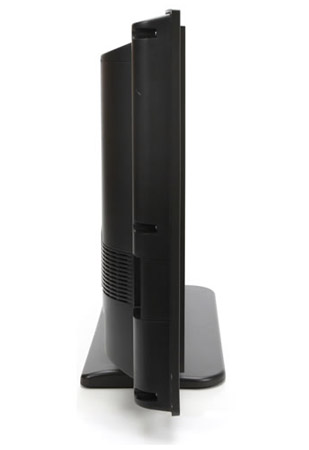 Evesham 26in Alqemi V HD TV
We tried messing around with both sets' brightness and colour settings. There are pre-defined image settings, such the unassumingly named Dynamic, which we found helped to produce a half-decent image – but still it was not as good as we might have expected.
Neither models struggled with sharpness and provided crisp images on screen, without any noise around the edges of say, a tall building. We were also pleased to see that ghosting was never a problem with either model, even with fast moving images, such as a car chase or a soccer match.
For gaming, the V and VX are both a good choice - once you've overcome the cable connection reach-over that is. We ran Gears of War for the Xbox 360 and were again impressed by their ability to cope with fast moving images, without occurrences of colour banding or noise.
As we directed Team Register to run, craw and "MOVE, MOVE, MOVE" across the bullet-riddled terrain, sound quality also remained strong, with the sound of individual shots often clearly defined and sturdy bass undertones remaining.
Verdict
It's difficult to separate these two models. Both have almost identical features. The VX's addition of a digital tuner is a bonus over the V model - unless you already own a Freeview set-top box - but it lets itself down with a poorer HD picture quality than displayed on the cheaper V. But the V isn't as stylish as the VX. Together, both sets provide high quality sound, a good array of connectors and make a sturdy choice for those looking to go flat-panel low price.

Evesham 26in Alqemi V and VX HD TVs
Both offer excellent value for money on quality and capabilities alone. The V lacks a built-in digital tuner - yet the VX's HD display isn't as exuberant. Oh the dilemma...
Price:
Alqemi V £349 ($694/€518)
Alqemi VX £399 ($794/€591) RRP