Evesham 26in Alqemi V and VX HD TVs
Hi-def, lo-price
Review Evesham is rapidly building a rep for releasing inexpensive but decent low-cost LCD TVs, and its Alqemi line is leading the way. The range stretches from flat-friendly 26 inchers right up to palace-perfect 42in models, but we decided to audition its two cheapest: the Alqemi V and the Alqemi VX.
While both screens are identical in size, the V is clearly the inferior of the two models, not only because it doesn't have a built-in digital tuner, as the VX does, but its design isn't as sharp either. Evesham has tried to save a few clams on the V by moulding the casing in a matt plastic finish and giving it a thinner stand, making it feel less stable.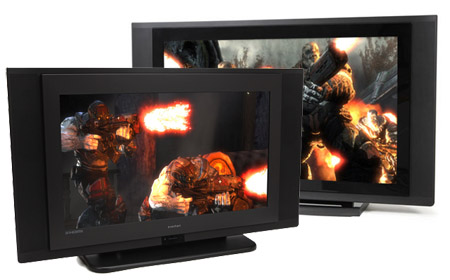 Evesham's 26in Alqemi V and VX HD TVs
While these may sound like minor aesthetic gripes, they do make the V model seem cheap in comparison to the VX. The VX has a thicker stand - helping to make the set feel sturdier - and a black-lacquer finish. Evesham claims both models weigh the same, 11.4kg, and both are wall mountable, with brackets supplied.
The V and VX are the smallest models in Evesham's Alqemi range, which tops out with the 42in SX. They all come with a three-year in-home swap out warranty.
The V and VX both feature buttons of their left-hand sides for stand-by, TV/AV, the on-screen menu, programme scrolling and volume adjustment. Since the power button is located in a sunken section at the rear of both sets and neither models feature swivel bases - such as on Samsung's 26in LE26R74BDX - locating the switch and powering on the set could easily become a little annoying. The solution: leave it on stand-by, not an approach that'll do much to reduce your carbon footprint.
Evesham's technical specifications state both models are near identical in terms of picture display abilities. Both have an aspect ratio of 16:9 and a contrast ratio of 700:1. The resolution for the V and VX is also identical - 1366 x 768 - as is the display area of 57.5 x 32.3cm and 0.6 x 0.6mm pixel pitch. Both models can display a mind-boggling 16.7m colours, though we didn't manage to count all of 'em. Time waits for no man and so image response time is crucial. The V and VX claim refresh rates of 8ms - impressive, yes, but it took both between one and two seconds to display a picture from the moment the channel was selected. This meant we sometimes flicked past a channel because it wasn't displaying an image quickly enough, especially when scrolling through AV inputs.
Setting up TV sets for first time use can be a laborious process. Thankfully, the V and VX have near identical Electronic Programming Guides (EPGs) and idiot-proof picture-guided menu systems that help to make setting selections for the picture, and features such as sleep time and parental lock reasonably straightforward.
The remote controls are the same and so equally confusing. An assortment of buttons in a Stonehenge-style arrangement, combined with small, grey and difficult-to-identify ones meant we spent 15 minutes just working out the vital controls, like the main menu, for example. Selecting some options within the menu system can become quite tricky because it requires the user to navigate between sub-menus and select options with a variety of random buttons of the remote.
Sponsored: Minds Mastering Machines - Call for papers now open