TVonics DVR-250 Freeview Playback DVR
Sky+ functionality... on Freeview
Don't expect to copy your most precious recordings off the box and onto a computer, either for viewing, for back-up or archiving to DVD. Unlike some other DVRs, the TVonics box has no serial or USB ports for this - or for applying system software updates directly.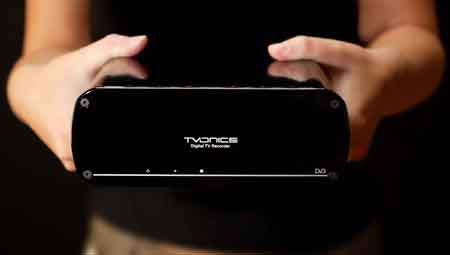 TVonics' DVR-250: small box, smaller carbon footprint
The DVR-250 primarily uses the EPG to select content for recording, but you can also programme it VCR-style by entering specific times. You can begin watching a programme that's already begun being recorded - the so-called 'chase mode' - and even watch live TV in slo mo, which is fun to try, but not something you'll do frequently, I suspect. The box will apparently automatically adjust the programme recording time to match any changes in schedule caused by breaking news items or over-running sports events.
Now, exactly how big a threat DVRs are to the delicate balance of the planet's ecosystem is not currently the subject of much in the way of scientific debate. We can find nothing in the Kyoto Treaty about it and Al Gore hasn't returned my calls. But in standby mode - which, let's face it, will be pretty much all the time you're not actually using the thing - the DVR-250 consumes a piddling 3W of power, jumping up to a hardly city-darkening 20W when it is doing its thing at full tilt. Now we're pretty sure that not taking a shower for a week would save way, way more energy, though you'd find yourself standing alone at parties. All joking aside, TVonics has made a laudable effort to reduce its gadget's carbon footprint.
Verdict
So, should every home have one? Well, we're not keen to hand my DVR-250 back, we can tell you that much. It looks the part, is easy both to set up and to use and is pretty decent value. So in short, yes. If price is your only problem, the DVR-250 has a smaller brother, the DVR-150, which is pretty much the same but comes with a 160GB drive - good for about 80-odd hours of content - and costs around £150.
Sponsored: Minds Mastering Machines - Call for papers now open

TVonics DVR-250 Freeview Playback DVR
Well made - in good old Blighty - with a decent media capacity. It's easy to set up and use, and good looking too...