Sony apologies over virtual cathedral firefight
Murder in the Cathedral will continue, however
Sony has gone down upon penitent knee and apologised to the Church of England for including Manchester Cathedral as a location for a brutal gun battle in its Resistance: Fall of Man video game.
In a letter sent to the Dean of the cathedral last week, Sony Computer Entertainment Europe wrote: "It was not our intention to cause offense by using a representation of Manchester Cathedral in chapter eight of the work. If we have done so, we sincerely apologise."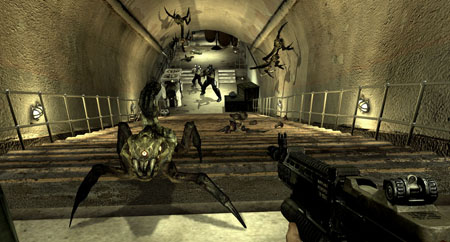 Resistance: Fall of Manchester?
Two weeks ago, the Church branded Sony's decision to include the cathedral in the game "sacrilegious". Quite apart from offending religious sensibilities, it said, Sony had shown a particular lack of sensitivity by setting this part of the game in a city troubled with gun crime.
On this point Sony was unrepentant, however. In the letter, it said did not believe "there is any connection between contemporary issues in 21st Century Manchester and the work of science fiction in which a fictitious 1950s Britain is under attack by aliens".
The Dean, the Very Reverend Rogers Govender, said he welcomed Sony's apology, but said he hadn't forgotten Church demands that the game be withdrawn or modified to remove the cathedral sequence, and calls that the Japanese giant make a substantial donation to Church-led education efforts to fight gun crime in the city.
Sponsored: Minds Mastering Machines - Call for papers now open