Fancy some hot buttered storage?
Bringing new meaning to pop-ups
Competition It is a Monday, and we're all looking at another five days of miserable toil before the glory of the weekend beckons once more. We can't do much about that, but how's this for a way to ease the pain of a new week?
Reg reader Alan Howlett sent us word of a very silly tech prank, and we've decided to turn it into a competition. As you read on, keep in mind that there will be a test at the end.
Over to Alan:
I bought a Synology DS-207 Network-Attached-Storage (NAS) device and it arrived yesterday. I have set it up as the primary file server for my office and am totally in love with it. It's fantastic- it does nearly everything our Windows 2000 Server PC did...
Yes, yes. you like your new shiny bit of kit. Enough eulogising, and on with the story, please...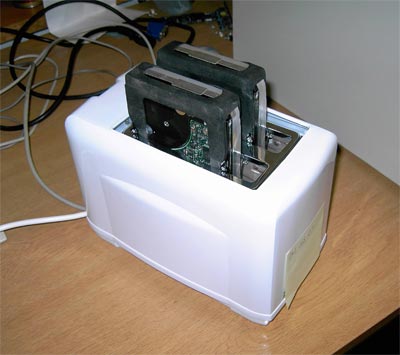 It does, however, look like a toaster and I have been informally calling it "the toaster" in the office.

Anyway, I had also bought an actual toaster that arrived on the same day. The real toaster has some slots on the top, and the synology has lights, but apart from that they are very similar.

Imagine my amusement when the actual toaster arrived first, and I realized that I could fit a hard disk into each bread slot. I had a customer (also a friend) about to visit, so I put 2 x 40GB drives into it, tucked in a network cable, and persuaded him that the toaster was actually a NAS device.

Those of us in the know kept commenting on the need for the toaster to run cool so as to prevent the disks burning etc., but our customer did not suspect and was convinced that it was a pretty good bit of kit.

I will keep his identity secret to spare his blushes, but everyone in the office found it hilarious.

Just in case anyone is worried about doing business with us, we have played practical jokes on each other before.

Yours,

Alan
Stunning work. We particularly like the post-it note that is stuck on the side. Presumably this has a phony IP address scribbled on it, for added authenticity.
Here's the test: can you do any better? In a Jackass-meets-BOFH style contest, we want to see photographic evidence of silly stuff like this.
The rules are simple, and few:
The victim (we assume there will be one) must be at least slightly computer savvy - pranks on total non-techies don't count.
No toasters (or people) should be physically hurt in the cause of this tomfoolery. Mental anguish is fine; toasters are very robust like that.
Toasters are not essential. Pictures, however, are. Email your submissions to: icandobetterthanthetoaster@theregister.co.uk by Friday, 20 July.
We'll select the cream of the crop and then turn the finalists over to El Reg's beloved readers for a public vote. The eventual winner will get a Reg Goodie Bag. ®
Sponsored: Minds Mastering Machines - Call for papers now open