Apple toughens iPhone screen, boosts battery life
Glass display to hinder scratches?
Apple has upped its claim for the iPhone's battery life, now saying the touchscreen smart phone will offer an eight-hour talk time. It's also decided to ship the machine with a glass front in a bid to beat the scratches spotted by so many early iPod Nano buyers.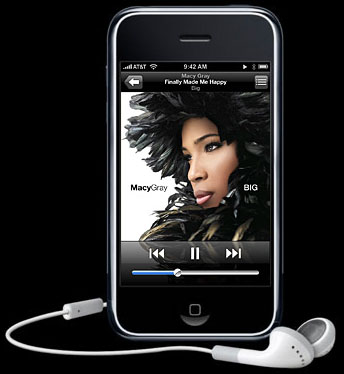 Apple's iPhone: will it fall on its glass?
Both changes undoubtedly come from real-world testing and the development work that's gone into the iPhone hardware since Apple CEO Steve Jobs unveiled the handset in January. Comments allegedly made by folk who'd had their hands on the iPhone earlier this year highlighted issues with both battery life and screen resilience, and Apple's statement today certainly lends verisimilitude to those claims.
So what's changed? Apple originally had the iPhone's single-charge longevity down as five hours' talk time, video playback time and web browsing time, and 16 hours' music playback. Today's revised figures up those number by up to 60 per cent: eight hours' talk time, six hours' browsing time, seven hours' video playback and 24 hours' music listening.
It's all highly theoretical, of course, as were Apple's original numbers. We're sure, under lab conditions, with the screen dimmed right down, the iPhone can deliver those new figures, but if the handset actually delivers them in the real world, it'll be the first smart phone that ever did match the promised spec.
As Apple admits: "All Battery claims are dependent upon network configuration and many other factors; actual results may vary."
Apple now has a better idea how many iPhones it's going to sell, and punching that into the company's humungous iPhone Excel spreadsheet reveals it can afford to fit a pricier, "optical-quality glass" panel on the front and either a bigger or a more advanced battery without too many negative effects.
Or it's simply decided it can't risk the reputation of a $600 handset on such factors and is taking the hit.


Apple's iPhone: slim but now with a jucier battery
The iPhone goes on sale in the US next week.
Sponsored: Minds Mastering Machines - Call for papers now open