Canon Ixus 950 IS compact digital camera
If anyone can...
Finding your way around the menu is reasonably straightforward and everything is more or less where you expect to find it. Through this dual-control dial operation you can select or alter settings and even assign useful functions to the Shortcut button for one-touch access.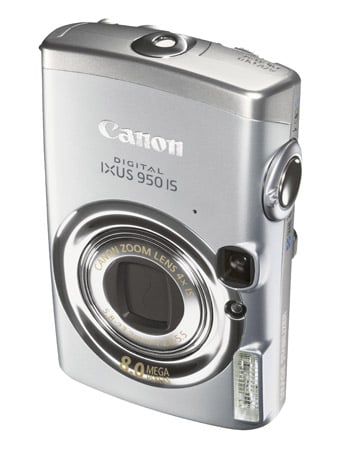 Of course, any compact digital camera is susceptible to daily wear and tear. LCD displays can get scratched and shutters can get damaged. The Ixus 950 IS is a camera you'll want to look after. It deserves respect. This is a compact you will be proud to show off and it definitely feels durable enough to withstand a bumpy ride even with minimal, common-sense protection - such as keeping it in a soft case. Naturally, a hard case of sorts is better and it goes without saying that the more you look after it, the better condition it will remain in.
It only takes a second both to power up the Ixus and to shut it down - a telltale sign of the high quality of this camera and one reason among many as to why it's positioned at the top end of the mid-range compact market.
Canon makes a bit of a fuss about its "Face Detection AF/AE/FE" technology: it's designed to automatically detect the subjects in the frame and selects the optimum focus, exposure and flash settings for flesh. You can tag each image based on face detection setting and shooting mode to make it easier to find for future reference.
We ultimately found this worked well sometimes but produced some less impressive results on other ocassions. It is, in essence, a feature that presents the user with a pre-programmed setting of sorts based on surrounding light conditions. Again, we got mixed results especially when photographing drunken punters in a dimly lit pub, although most images were quite reasonable and required only a little post-production Photoshopping to turn them into something resembling respectable.
This was also the much the case when using the auto-focus. It locks on very quickly in good light, often leaving us actually wondering if it had and prompting a double check. But of course it struggled a little more in darkened conditions. When in its continuous shooting mode, the Ixus 950 IS averages a rate of one frame every 1.3 seconds until the inserted SD, SDHC or MMC memory card is full - a 32MB memory card comes bundled with the camera, as there is no internal memory.