Coming soon: the PC-powered paper shredder
We're not sure how many important documents with fit into the 12.3cm maw of Hong Kong-based Brando's latest USB gadget, a handheld electric paper shredder, but it'll do fold magazine covers if a video on the firm's website is anything to go by.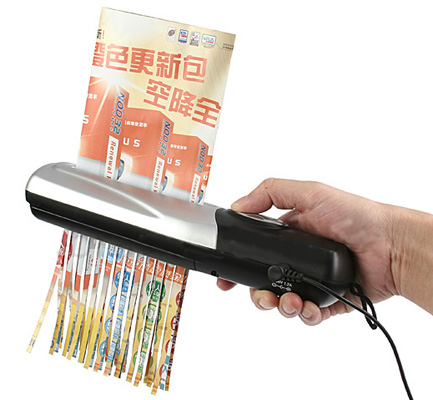 Brando USB shredder: slice of life
However, there's something appealing about the gagdet - at least for office pranksters. Hook it up to your PC and show how little you care about your job by blitzing your way through all that unnecessary paperwork... Hand it to a new colleague and tell 'em its the latest optical character recognition scanner... Walk up to your boss and threaten to feed his tie through the electric gnashers if he doesn't give you a raise...
Actually, maybe not that last one, at least not if you want to keep your job... or stay out of jail...
Whatever, the shredder's battery powered too, so you can take it with you wherever you go and shred paper to your heart's content.
Due mid-July, the shredder will set you back $22.50 (£11.40/€16.90).
Sponsored: Minds Mastering Machines - Call for papers now open