NASA schedules fourth spacewalk for Atlantis crew
One down, three to go
Almost as soon as the crew of the space shuttle Atlantis completed their first spacewalk, NASA announced that the mission to the International Space Station will be extended by two days to make time for a fourth excursion into hard vacuum.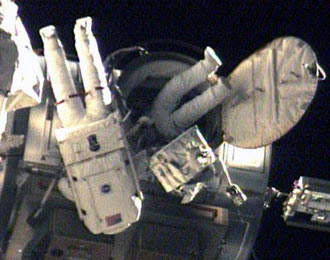 Although John Shannon, head of the mission management team at NASA, did not elaborate, it seems fair to conclude that the extra spacewalk is being added to allow time for repairs to the shuttle's torn thermal blanket.
NASA has said the tear is not a major cause for concern. Since the loss of Columbia, every shuttle mission carries a repair kit, meaning the crew has some options available. They could cut off any loose material and tuck the blanket into the tiles, or they could stick a thermal plate over the area using a specially developed adhesive.
The rest of the mission is going according to plan. Mission specialists John "Danny" Olivas and Jim Reilly spent six hours 17 minutes working outside yesterday, returning to their quarters on the ISS at 10:17pm, eastern time.
NASA says the pair connected up power, data, and cooling between the ISS and the new truss segment, as well as releasing "locks and launch restraints on the segment's solar arrays and prepared its radiator and rotary joint for operation".
The solar arrays will be unfurled today (Tuesday), with the next spacewalk slated for Wednesday afternoon, US time. ®
Sponsored: Minds Mastering Machines - Call for papers now open