Albanians swipe Bush's wristwatch
Goddamn thieving former Commies
The White House has denied reports that enthusiastic Albanians greeted President Bush to their sun-kissed land by swiping his wristwatch. The alleged incident, captured by Albanian TV on Sunday and now featuring on YouTube, appears to show thieving former godless Commies relieving El Prez of his timepiece: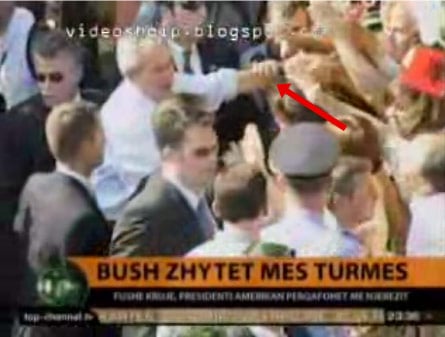 A White House spokesman simply said: "The President took his watch off." The video evidence, however, suggests otherwise:
Well, the jury's out. If the Albanians have indeed half inched Bush's watch, expect an indignant Condoleeeeza Rice threatening to cancel all of Tirana's McDonald's franchises until the culprit is handed over for rendition. ®
Sponsored: RAID: End of an era?