VMWare offers Windows-on-Mac tool at half price
Fusion due in August
VMWare's Windows-on-Mac application, Fusion, will go on sale in August, the virtualisation technology specialist announced today. Order it now and you'll get the software at half price, the company said.
VMWare announced Fusion in August 2006, though a pre-release test version has been available to Mac users for seven months now.
Like Parallels Desktop 3.0 - released just last week - Fusion allows Mac users to run a variety of operating systems within a window on their Mac OS X desktop. Fusion is capable of loading Windows from disk partitions created by Apple's own Windows-on-Mac tool, Boot Camp. It's also capable of running Windows apps with the Windows desktop hidden, as if they were running natively on the Mac.
VMWare also touted Fusion's support for Microsoft's DirectX games API, but we note it's only capable of working with DirectX 8.1 - Parallels Desktop 3.0 supports DirectX 9, making it more relevant for Mac users keen to run Windows games.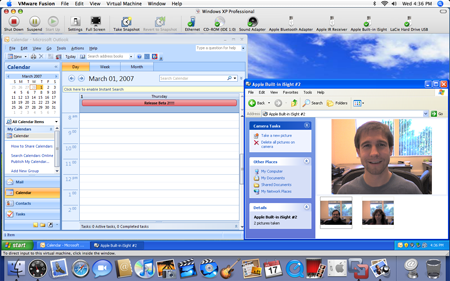 VMWare's Fusion: out-performed by Parallels Desktop?
Fusion supports USB 2.0 devices - as does Parallels - and to help PC users switching to a Mac, it can also use virtual machines created from a Windows PC's entire hard drive using VMWare Converter.
VMWare Fusion is due to go on sale in August for $80, though the company is offering the product for $40 if you're willing to order the software before then. More details here.
Sponsored: Minds Mastering Machines - Call for papers now open