Shuttle docks with ISS after 'almost flawless' launch
Torn thermal blanket not a problem
The Space Shuttle Atlantis has docked with the International Space Station (ISS) after an "almost flawless" launch last week.
With the launch and delicate docking procedures out of the way, NASA has turned its attention to life aboard the ISS, and setting up for the first space walk.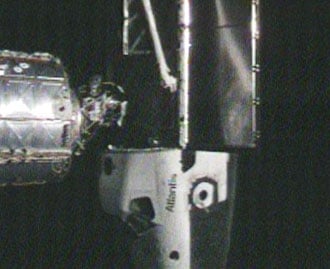 Atlantis, shortly after docking with the ISS.
The shuttle carried with it a new truss section for the ISS, and a new crew member, Clayton Anderson, to replace Sunita Williams who has just completed a six month tour aboard the station. Anderson has now replaced Williams in the ISS's crew rotation schedule.
Williams attracted plenty of attention during her stay on the ISS: she completed the Boston Marathon strapped to a treadmill, and set a new women's world record (22 hours, 27 minutes) for the most time spacewalking.
The first spacewalk is scheduled for today (Monday). The main truss segment will be attached by the shuttle's robotic arm before astronauts John "Danny" Olivas and Jim Reilly go outside to sort out the details. The pair have spent the night in the airlock in preparation for the walk.
Two further spacewalks are planned for Wednesday and Friday. A further walk may have to be added to fix a gap in the shuttle's thermal blanket.
At a news conference shortly after the launch, NASA mission managers said a section of Atlantis' blanket had come loose during the launch, leaving a four inch gap in the protection it provides.
However, the area that is exposed is not considered to pose a great risk to the Shuttle and its crew during re-entry. For one thing, it doesn't get as hot as other areas: "only" around 1,000 degrees. And according to the Houston Chronicle, thermal blankets have come unstitched on other shuttle flights, and thermal tiles have been lost in the same area without causing any problems.
John Shannon, chairman of the mission management team, said at a news conference: "It's not a great deal of concern right now, but there's a lot of work to be done. Other than that, the vehicle is very clean."
Engineers will now run simulations of the stresses of re-entry to determine whether or not the area needs to be repaired. The crew has a couple of options if it does: they can trim off any loose material and tuck it all back in under a tile, or they could glue a protective plate over the area. ®
Sponsored: Minds Mastering Machines - Call for papers now open