Divine Essex pebble aids Venezuelan kiddies
eBay silliness with a purpose
It's hardly an image of Our Lord in a Romanian wardrobe door, but one eBayer is punting what he believes is the UK's mineralogical equivalent to the sheet metal Messiah - the Essex God pebble.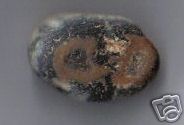 The seller's rather hopeful pitch explains: "This pebble was found at Thorpe Bay beach, near to Southend. It actually says "GOD" on it!!! The rock is a black/grey colour on the top and the letters are marked a light brown colour! I can guarantee this a actually natural markings!! If your not religous then you can ignore the smaller "o" and it says "GD" ...SMS/email/IM for "GOOD"!!"
Hmmmm. Despite our initial suspicion that this auction was merely an attempt to prey upon the gullible fundamentalist Christian geologist demographic, it turns out there's a worthy cause behind the sale.
The vendor elaborates: The item is being sold to raise funds for Venezuelan Children. On 20th July I'm going to a remote village in Mérida State, called El Tizure. Ive raised £3500 for the trip, but require a few more quid for resources to teach English and small gifts to take."
Good show. We're sure Golden Palace Casino can spare a few quid to add to its holy curios portfolio. ®
Bootnote
Thanks to Mike Gibson for the tip-off.
Sponsored: Minds Mastering Machines - Call for papers now open