Video and web access to keep comms healthy
To the tune of £4 trillion, TIA review says
But while the fixed line market is in transition from voice to data to video, the mobile voice market, is still growing, but at the same time adding video and data anyway, just in case.
Multimedia and data only accounted for 10 per cent of US wireless revenue in 2006, but the TIA forecast says it will grow to become 24 per cent of all wireless revenue by 2010. Which is why wireless carriers are investing in network upgrades to boost speed and availability, which makes the equipment market healthy.
We have to say that we have been following the TIA Annual Review projections since 2002 and while they are not always accurate, this is almost always because the Review is projecting each technology based on what is known today, and sometimes major backers of new technologies accelerate deployments. In other words, we've never known it to be wrong because it over-projects, only once or twice when it projects linearly and its forecasts are exceeded. For instance, it has consistently under-predicted the take up of broadband lines.
In 2003 it could not predict the triennial review of the US telecommunications market which allowed US telcos, the RBOCs, to finally invest in DSL networks without having to share those connections with unbundled operators at what they considered uneconomic prices.
The result was that suddenly the major telcos could invest heavily in ADSL technologies, a move that they had been waiting for, and which has now accelerated the pay TV offerings on a DSL line in the US, and which has driven down the prices and driven up the speeds of DSL lines, and wrested much of the advantage in the provision of broadband away from US cable operators. It is the same decision that has stimulated fiber build out globally. Now the TIA review reports that it expects this to be reversed by cable operator investments in DOCSIS 3.0 so that the two broadband types in the US will run neck and neck from the end of 2008 onwards.
Below is one graph that illustrates the war between the two major operator types in the US beautifully, taken from the review. It shows that 83 per cent of landlines are serviced by Telcos in the US, at the end of 2006 and just six per cent were being delivered by cable operators. Pay TV shows the reverse, with 68 per cent of Pay TV services delivered by cable, and only three per cent delivered by Telephone carriers (satellite being the bulk of the rest). Broadband has been their battleground and now the telcos account for 45 per cent of US broadband, while cable still has 51 per cent, retained from its early mover advantage.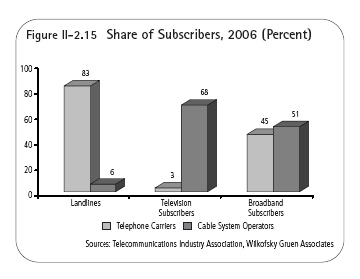 The voice erosion that we all talk about is also clear from the report, and it shows that landline telephone service revenue fell 7.5 per cent during 2006, due to an acceleration of the reduction of landline subscribers which fell 11 per cent in the consumer market, far higher than in previous years. The more voice revenues fall, the more that telcos have to invest in equipment to offer new services, and the more they have to introduce new ideas to stimulate brand new service revenues.
By 2010, the TIA and its advisors who helped compile these numbers, believe the majority of residential lines will be sold as part of a service bundle, so decreases in fixed lines will slow and favorable rates for broadband plus TV, plus VoIP in a combined package with wireless will help slow erosion. This suggests that the idea of a quadruple play is rampant among all of the tier one operators which the TIA has spoken to. They are all on a stated goal to make a four layer service impossible to refuse, based as much on low price as it is on service innovation.
Sponsored: Minds Mastering Machines - Call for papers now open