Apple TV made for the mass market, bits breakdown reveals
Apple's Apple TV costs $299 in the US - and not much less to make, according to a price list of the parts that has been produced by market watcher iSuppli. The cost of materials and manufacturing: $237.
That yields Apple no more than $62 in profit - rather less on Apple TVs sold through third-party retailers. That's a gross margin of 20.7 per cent - rather less than the 40-50 per cent that iSuppli estimates Apple makes on its iPod product line.
The Apple-styled "DVD player for the 21st Century" box's most pricey component is its 1GHz Intel Pentium M processor, which iSuppli estimates costs the Mac maker $40 a pop. Next up is the unit's 40GB hard drive, manufactured by Fujitsu, which costs $37.
But it's early days for the Apple TV, and Apple is clearly getting in at the start of demand for downloaded-content set-top boxes. As demand grows, production volumes rise and Apple can cut better volume-purchase deals. The Apple TV's hardware requirements are unlikely to change radically going forward - beyond storage capacity, of course - allowing the company to take advantage of the falling price of behind-the-curve chip products.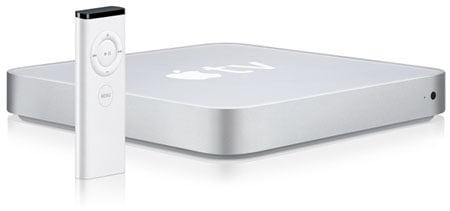 Apple TV: small box, big opportunity?
Right now, the Apple TV is effectively a Mac minus a few computing-centric components, but there's room for Apple to cut costs in future generations by building a more dedicated device to replace the generic PC-based first generation, much as Microsoft did with the Xbox.
MS, of course, needed a more powerful second-generation games console, something Apple probably doesn't with Apple TV until a TV standard emerges beyond 1080p HD.
In any case, Apple TV isn't a Mac but a consumer electronics device, and that means a different pricing plan no matter what. iPhone may be priced high in the hope of selling to price-no-object early adopters, but the Apple TV is geared toward are more mass-market audience, and that means keeping the price down.
Sponsored: Minds Mastering Machines - Call for papers now open