Intel power PC platforms: Core 2 Extreme QX6800 and V8
Blistering performance?
The dual-core E6700 did surprisingly well in PCMark05 and Nero and the lower clocked but four-cour Q6600 took longer in our Nero test, which confirms that two cores are enough for most of the software that is available today. Once again, POV-Ray showed the benefits that we'll get from quad-core when software takes advantage of this feature.
Processing speed tests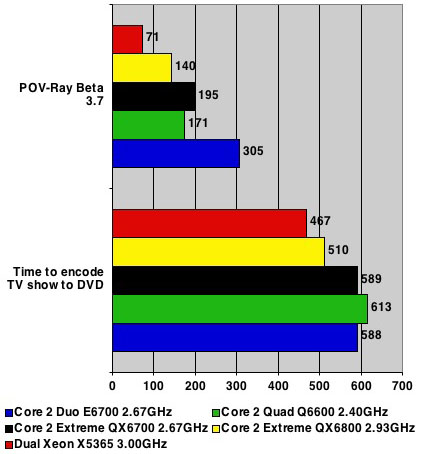 Time in seconds - shorter bars are better
We got some funny results from the QX6700. It was slower than the Q6600 in POV-Ray, which is inexplicable, and the power draw was higher than we had expected.
And so we plugged in the QX6800 and were pleasantly surprised to see that performance scaled with clock speed, exactly as you'd hope, while the power requirement was modest compared to our QX6700.
Processor thermal tests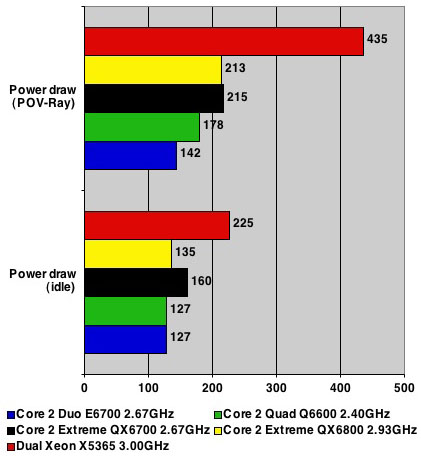 Power draw in Watts - shorter bars are better
Add those results together and we can conclude that Intel has speed binned the very fastest Core 2 parts that it can find to deliver a final hurrah before it moves on to the 45nm next-gen 'Penryn' toward the end of the year. Quite possibly, Intel doesn't especially want you to buy a QX6800, it just wants to show you what an enormous advantage it has over AMD.
Verdict
Both V8 and the QX6800 are monstrously powerful, in every sense of the word. The eight cores of V8 are fun but purists will doubtless point out that it's actually four dual-core processors on two sockets. No matter how you look at it V8 and Skulltrail will require a considerable amount of input from the software developers to get the most out of four, eight and more cores.
As for Core 2 Extreme QX6800, it's darned impressive but also absurdly expensive.

Intel power PC platforms: Core 2 Extreme QX6800 and V8
Intel struts its stuff with a new quad-core CPU you might buy and an eight-core set-up that is sure to be out of reach...