Sirius and XM's star-crossed merger
A duck and a turkey don't make a swan
Why a monopoly is good for YOU
But let's assume XM and Sirius have a valid point. How then does a merger save them?
The fine details as to how a Sirius and XM union will eek out a profit remains a mystery. XM and Sirius' lawyers are on such tenterhooks now, they aren't talking. (Both companies declined to comment for this story.) But it probably involves heavy multiplication and maybe even a cosine or two — so let's step back. Like many intractably complicated problems, the logic can be boiled down to a simple equation:
F + F = P
Where:
P = profit and F = sinking ship of a business model.
There's a problem with the above math. Can you spot it?
While both companies have enjoyed steadily expanding revenue each quarter, neither has come up with anything resembling a profit. In their latest earnings reports, XM posted revenue of $264m but still managed to come out $122m in the red. Despite Sirius' $204m revenue, it posted a loss of $145m in the quarter.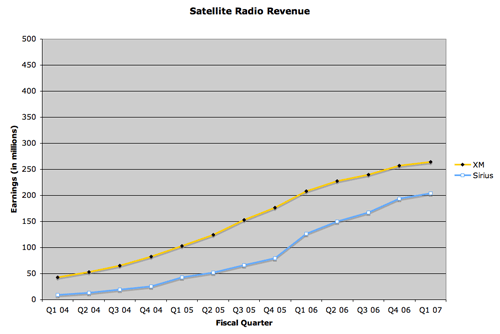 While satellite radio revenue increases...
XM and Sirius have spent ridiculous amounts of cash trying to one-up each other with overpriced exclusive celebrities. Sirius payed $500m to ink Howard Stern for 5 years. XM countered with a $55m, 3-year contract with Oprah Winfrey. The spending increased losses at pace, but did precious little to boost revenue at a similar clip.
This deserves its own paragraph: Oprah didn't change anything. Oprah! The woman could bottle SARS and make a profit.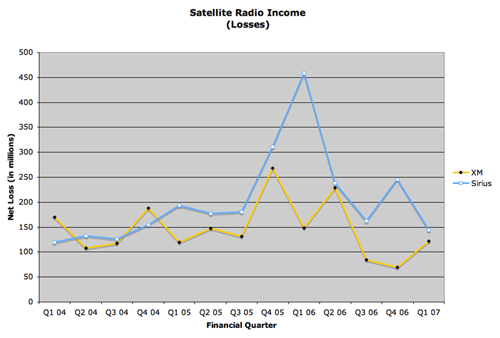 Total income remains in the negatives
Okay, forget the law and finances. What about the customer?
XM and Sirius assure regulators not to worry about price gouging. They propose to submit to regulations that temporarily lock prices to ensure customers won't pay more after the merger than they did before. Forgive us if a temporary ban before price self-regulation doesn't exactly foster the warm fuzzies.
Karmazin tells regulators that the merged companies will be able to sell more advertising. That's good for business, but not for one of the key appeals of "ad-free" satellite radio.
Being able to offer more channels is also a sticky wicket. XM and Sirius already use nearly all their bandwidth available for their current lineup. Some propose an a la carte option as a solution, but this usually leads to dividing content into lumps. Want sports? That's extra. Want comedy? That's a whole different package.
The merger would also impose the costs of new equipment. XM and Sirius use different satellite technologies, allowing units only to receive signals from one parent company.
As the regulators sloth their way toward considering this merger, they need to reach the obvious conclusion. XM and Sirius must fix their own business models separately. These companies don't make corn or even airplanes. They're not deserving of federal aid after abusing a government-created duopoly by over-spending.
There's got to be way to make money in satellite radio without eliminating customer choice and pissing on antitrust regulations.
Then again, if you can mess up with Oprah on your side, maybe it's time to throw in the towel. ®
Sponsored: Minds Mastering Machines - Call for papers now open