Vita Audio R2 DAB/FM stereo radio
Who said radio was dead..?
When the unit is first fired up it automatically begins a scan for what DAB stations are available. The area we used to do the test in does not get a great DAB signal and some radios can struggle. Not so here, a quick scan bought up a full compliment of channels in under a minute.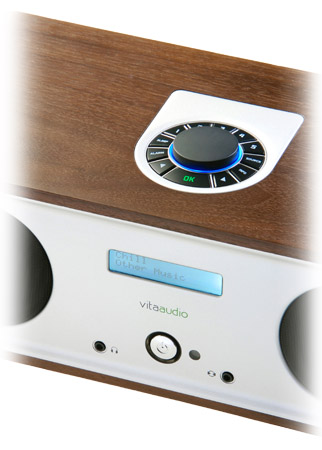 The display could be bigger on this unit, particularly with the amount of graphic information now contained on a DAB broadcast and this will only be added to as time goes on. However, this issue is dealt with by the ability to scroll through six different display options, which gives not only information on programming, but also technical information like signal strength and what broadcast multiplex the unit is tuned to.
A lot of thought has gone into control interface of the unit, which is known as the Rotodial. This interface will be seen across much of the brand's products and is designed to form an attractive looking, tactile and intuitive way of navigating around the radio's features. Arranged around a central volume control dial are five numbered buttons, two scrolling arrow buttons, an OK button, a source button and buttons giving access to the alarm controls.
The way the user navigates around the radio's functions is not so intuitive that the user can just get going on their own. We found we had to refer to the manual for a while to really get the hang of it, but once the way of navigation and selecting different functions was gone through a few times it does stick and the unit becomes comfortable and friendly to use. The instruction manual is also written in plain English and provides a useful way into getting the most out of the machine, not always the case, especially with Far East products.
A good function that can be accessed from the Rotodial is a drill down feature that enables the listener to switch to ancillary broadcasts or sister stations attached to a particular station. Station presets are also easy to not only store but select using the five numbered buttons on the top of the unit. We would argue however that in the modern radio world five presets (both in DAB or FM mode) is a little low.
Sponsored: Minds Mastering Machines - Call for papers now open