Vita Audio R2 DAB/FM stereo radio
Who said radio was dead..?
Review The concept of DAB in the UK has been dogged a little by new entrants into the radio sector introducing some indifferent products looking to cash in on an expanding market. The Vita R2 is a genuinely good product with a sensible and simple approach to design, but with a few surprises up its sleeve as well.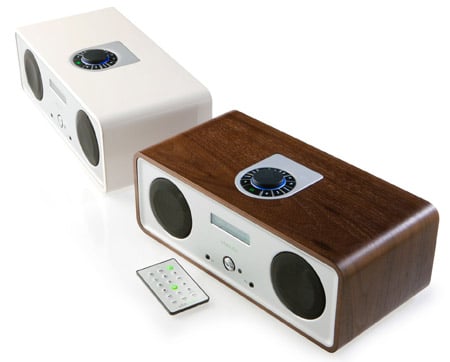 Following hot on the heels of the company's R1 radio, the R2 looks to build on a well-received debut with more features and greater sound quality. Right after purchase you get the impression this product has had a good level of thought put into it as it comes in its own sturdy cardboard carry case with a rope handle. It might seem an odd thing to pick out, but it shows that the manufacturer is thinking about practicality and presentation.
The promising packaging is not let down as the radio itself comes in either an attractive of Ivory high gloss lacquer finish or a walnut veneer. Not a huge range in design, but there is enough that is different in the look of each to provide a choice for those who like a contemporary look and those who prefer a more traditional looking radio.
The cabinets themselves are made from compressed wood fibre, which is used to deliver a very solid and relatively vibration-free platform to help the acoustic properties of the radio. The rest of the machine is sensibly arranged with headphone jack and an auxiliary port (designed mostly to accommodate an MP3) on the front of the unit.
Connection options do not end there as on the back there are two pairs of gold-plated in and out phono sockets. This means the unit can be permanently connected to a CD player/iPod dock or itself can be routed through an amp to become part of a separate AV system. Also on the back there is an auto-scan button so regular station up-dates can be carried out and there is also a car cigarette adapter power cord available (sold separately).
COMMENTS
How much?!?
Seemms a bit steep for me for a DAB radio. I work at a radio station and they're really pushing DAB although at this price I won't get one.
I'll stick to the £30 DAB radio from Tesco.
Rob
It ain't Hi-Fi
Since the bitrates that DAB radio is broadcast on here are so pathetically low, there is no way they could market this as anything approaching high fidelity - so I suppose it is more appropriate to give the appearance of a crusty old tranny.
Fancy listening to "The Hits" at 96kbps in MP2 format?
We'll soon have DAB+ with us, requiring another round of upgrades.
http://www.digitalradiotech.co.uk/
Why do DAB radios look naff?
And I mean all of them. Is there something about DAB that causes people to forget that said radio needs to be desirable?