LG U970 Shine mobile phone
Why do new products sound like WWII submarines?
Hand-in-hand with the U970's 3G capability sits its HSDPA technology that provides internet x-HTM access at monstrous 3.6Mbps in UTMS mode. Internet content and features, such as games, music, and news are service provider dependent, but 3's network served up a varied selection - we even downloaded a full music track in about 35 seconds.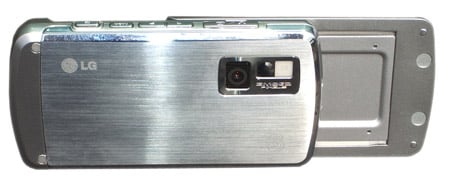 Unfortunately, the phone is again let down by image quality. While watching video clips, the video was juddery, blurred, and frequently interrupted by breaks in service or buffering.
Our interest in download content lapsed quickly as a result, so we switched to the handset's music capabilities. LG provides software to turn the U970 into a music player and, although it's no match for the iPod's ease of use, the ability to recognise multiple music formats including MP3, AAC, and AAC+ is a strong plus.
The U970 is also polyphonic, but the lengths LG has gone to in understanding the handset's target audience (posers, WAGs' and the odd magpie) are highlighted by its ability to stream music in Bluetooth A2DP stereo to a compatible Bluetooth headset (not included).
With data storage levels continuing to rise across all IT platforms, we were shocked not to see any available memory card ports on the U970. The handset does have a whopping 575Mb internal memory though, but requires connection to a PC via a USB cable (supplied) to transform it into what LG calls a software-free "mass storage device" for dropping music, photos, and videos onto the memory.
This feature is fine if you are willing to continually carry your USB cable in the event you should wish to swap Artic Monkeys for Babyshambles, but if not then the lack of a storage card is a pain.
A server synchronisation feature caught us by surprise because the U970's looks and feels out of synch (pun intended) with such a relatively advanced feature and target market. After several attempts we failed to get the feature working though, but were reassured by the handbook that we should theoretically be able to synchronise the phone's data with that on a server, such as contacts, and to "do items" via a wireless network.