Sharp Aquos LC37XD1E 37in HD TV
There's high-definition and then there's high-definition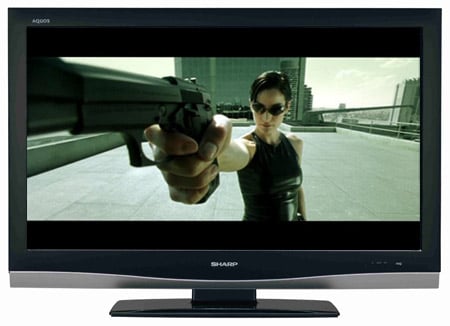 Slightly more disappointing is the shared Component-video and VGA port - you can only use it for one or the other, with a supplied adapter for Component-video input. The audio input is also a 3.5mm headphone connector, rather than phono, which is more common on A/V kit. There are two Scarts for your SD sources, but only one supports RGB, and there's also an S-Video connector.
Despite its 1,920 x 1,080 resolution, it's limited to just 1,280 x 1,024 when using the VGA port, which seems a fairly needless restriction.
The LC37XD1E includes a feature called Optical Picture Control that allows it to adjust the backlight to best suit its surroundings. There's a sensor on the front and when the light level in the room changes it will adjust the display to suit. It's a nice option that works well, saving you from having to constantly tweak the backlight settings.
Audio reproduction was decent, if a little lacking in bass. There is also a clear voice option for boosting dialogue, so you can lower the volume overall and still make out what people are saying.
The design is pleasant enough to look at finished in sleek shiny black plastic and with hidden speakers. The stand is inconspicuous and attaches to the display body via four bolts. It's not too large for a 37in model, measuring 92 x 66 x 12cm. The remote control feels nice and substantial with a sensible button layout that doesn't leave you hunting for commonly used items.
The recommended of price of £1,249 is quite high, but hunt around online and you should be able to pick one up for around £1,000, which is reasonable for a Full HD set of this quality.
Verdict
If you're a fan of HD DVD or Blu-ray, then it makes sense to opt for a TV that can display the material at its best - and the LC37XD1E is more than capable in this regard. The lack of dedicated Component-video input and hobbled VGA resolution are annoying though. It'll do its best to make the most of SD material, but unfortunately it can only do so much and it'll soon having you wishing there was more HD content out there.
Sponsored: Minds Mastering Machines - Call for papers now open

Sharp Aquos LC37XD1E 37in HD TV
To maximise HD DVD or Blu-ray you'll need a Full HD set, the LC37XD1E makes HD look fantastic
Price:
£1,249 ($2,467/€1,836) RRP