Any port in a storm: the display tech battle
HDMI. DisplayPort. UDI. Three rivals, only one winner. Which will it be?
The future
Three contenders - a three-way battle then? Not quite. HDMI and DisplayPort both now compete as over-arching PC-to-CE display connection specifications, while DisplayPort and UDI are fighting each other to become the de facto successor to DVI. Indeed, UDI's alignment with HDMI might be sufficient to swing the industry behind those two, squeezing out DisplayPort. That may even be reason for UDI's formation: to shore up the HDMI propostion by offering a compatible yet cheap, computer-centric standard that can sit alongside it.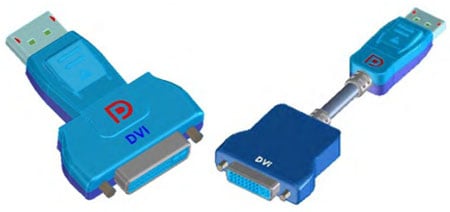 DisplayPort-to-DVI 'active protocol adaptors'
There's certainly little to choose between DisplayPort and HDMI on technology grounds. As both have developed, they've pretty much covered the gaps in their respective feature sets that might have allowed the other format some leverage. Both now incorporate crucial features for consumer electronics applications and for computer roles.
Commentators in the past have looked to licensing costs as a metric for forecasting the outcome of the fight, and while HDMI has seemed pricey, DisplayPort's differences have limited its advantages. Yes, it might be cheaper to license, but allied implementation costs - addition support for HDMI, the ability to work with legacy DVI monitors and so on - mean it could well lose out in the bigger picture. Only UDI can really claim to be cheap, but its limitations means it's unlikely to displace either of the other technologies. Though, as I say, it has the potential to harm DisplayPort's proposition to computer makers.
But UDI is weak when it comes to industry support. HDMI and DisplayPort both have big backers in the PC arena, where support for them is split roughly right down the middle. In the consumer electronics world, however, HDMI is king.
And it's here now, already implemented in HDTVs, next-gen optical disc players, quite a few current-generation set-top boxes and players, and a fair number of PCs and PC-centric graphics cards. No one has yet put a product in stores that incorporates a DisplayPort connector.
And there's the problem: if HDMI does what DisplayPort does, and it's readily available for licensing and implementation now, why pick an alternative that isn't? In many cases, it's politics - vendors are making choices based on decisions already made by their competitors. Others are backing all two or three of the formats so they're covered no matter which connector comes out on top.
HDMI is certainly going to continue to find a home in notebooks and small form-factor desktop systems with an eye on the living room, since HDMI will quickly become the way to connect a PC to a TV.
DisplayPort's strength is its PC-centricity, allowing it to be positioned as a 'serious' alternative to the frivolous home entertainment stuff HDMI connects you to. It's not hard to imagine a world, a few years hence, where computers connect to TVs via HDMI and monitors via DisplayPort or UDI. Think of all the new kit big business buys. If you're fitting an office out with 100 PCs and 100 screens to go with them, you're not going to waste too much time pondering how the two components will be connected together.
Furture laptops will have DisplayPort or UDI to simplify the connection to the LCD, and if DisplayPort's already on board, why add HDMI? Because some folk will want to connect their notebooks to TVs. Again, if you're going to have two connectors, why not opt for cheapest approach: UDI for PC connectivity, HDMI for CE links? Assuming UDI doesn't just fade away for lack of support, of course...
What we have then is a re-run of the old USB vs Firewire debate: two standards that do, give or take a plus point or two, the same job largely as well as each other. In each case, sufficiently large industry camps have formed around each to ensure neither will vanish, and vested intellectual property and licensing interests means there's little chance of the two coming together into a single standard.