Any port in a storm: the display tech battle
HDMI. DisplayPort. UDI. Three rivals, only one winner. Which will it be?
DisplayPort does mandate its own copy protection scheme, DPCP (DisplayPort Copy Protection), so vendors keen to support HDCP will have to license both technologies, increasing the cost of implementing the technology.
DisplayPort's rapid development has seen it embrace much the same capabilities as HDMI. It too will support HD and high resolutions like 2560×1600, known as WQXGA in the computer graphics world, at a image update rate of 60Hz. It can cope with 8-16 bits per colour component. The addition of sound takes in eight-channel audio, and both sound and video data can be synchronised. Like HDMI, it uses a small, simple connector that's a long way from bulky DVI.
DisplayPort cables can run up to 3m in length, before inevitable signal degradation limits its ability to display beyond-HD resolution data. However, it's capable of pumping 1080p along cables running to 15m.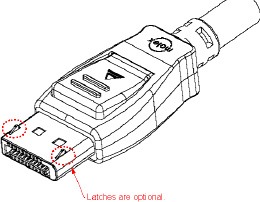 DisplayPort: the business end
Unlike HDMI, DisplayPort isn't compatible with DVI, though it will allow DVI data to be channeled through it. The upshot: while a HDMI-DVI cable is simple to make - just link one of each connector at either end of a cable - DisplayPort-DVI is not. Such adaptors need signal-modifying electronics, so they won't be cheap. Devices capable of sending DVI signals along a DisplayPort cable will be branded Multimode.
UDI
The Unified Display Interface (UDI) is, like DisplayPort, intended to be the successor to DVI. It was designed not only to offer superior capabilities than the older connection technology but also be to cheaper and to maintain compatibility with HDMI. So there's no sound support, for example, but it does support higher image resolutions and colour depths than DVI.
Essentially, then, it's 'DVI 2', touted by supporters who, like DisplayPort's backers, appreciate the need for a more advanced, more applicable computer-centric digital display connector but aren't willing to sacrifice backward compatibility to get it.


UDI: source connector (left) and input connector - aka the Sink
A laudable goal, you might think, but one that's as yet to secure serious support. UDI was launched by Apple, Intel, LG, Samsung and National Semiconductor in December 2005. But Intel has since become increasingly pro DisplayPort. Graphics chip makers ATI and Nvidia have contributed work to the development of the UDI spec, but Nvidia is also working with DisplayPort, as did ATI before its merger with AMD. Now that AMD owns ATI, the combined operation has become even more pro DisplayPort, it seems. Samsung appears to be playing the field, supporting HDMI, DisplayPort and UDI.
Sponsored: Minds Mastering Machines - Call for papers now open