Any port in a storm: the display tech battle
HDMI. DisplayPort. UDI. Three rivals, only one winner. Which will it be?
Of course, the display needs to be able to display those colours and the source material has to have them there in the first place. Today, 10-bit displays are becoming more commonplace, but HDMI 1.3 has room to cope with these new colour depths as they begin to be used by screens, players and the content itself.
HDMI 1.3 also includes technology to ensure video and audio data remain synchronised which, again, is less of a concern now but may well become so as devices do more processing on the video data to enhance the picture. It may also prove handy when the two come from different locations: a PC's graphics card and its sound card, for instance.
Yet another nod to the PC world: HDMI is fully compatible with DVI technology, though DVI can only deliver digital images not sounds. HDMI supports the HDCP (High-bandwidth Digital Content Protection), which encrypts video data between devices.
HDMI's strength in the consumer electronics world comes not only from its broad industry support, but also because it's mandated both in the US and in Europe for HDTVs. In the US, HDTVs must have HDMI; in Europe they only need HDMI if they're to carry the HD Ready logo, which is near enough the same thing as it's the standard way of indicating to consumers that a display can do HD.
Remember, HDMI isn't essential to pick up an HD signal - the XBox 360 does HD over a component-video connection, for example - but it is necessary if you want to play HDCP-protected content on an HDTV. HDCP isn't widely deployed yet, but that's certain to change in the near future as more consumers buy into Blu-ray Disc, HD DVD and online HD sources.
DisplayPort
DisplayPort was originally conceived as a replacement for VGA, DVI and LVDS on PCs - essentially to do for the computer business what HDMI was doing for the consumer electronics world. So, while the ability to support beyond-HD resolutions was always part of the DisplayPort package, sound wasn't, because most PCs handle sound and video separately.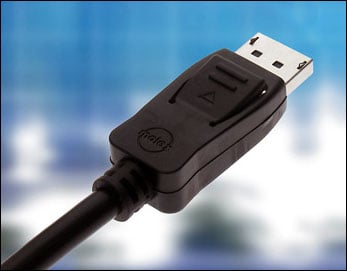 DisplayPort: reaches the computers other ports cannot reach
But just as HDMI has accumulated more PC-focused features, the DisplayPort specification has grown in the direction of consumer electronics, taking on the ability to carry sound data too. DisplayPort was updated to version 1.1 earlier this year, a move which saw the technology incorporate the ability to handle HDCP, though it remains an optional part of the specification, so there's no guarantee a given DisplayPort-equipped device will support it. That may prove a problem for users who want to watch protected HD content on a PC.