Any port in a storm: the display tech battle
HDMI. DisplayPort. UDI. Three rivals, only one winner. Which will it be?
HDMI
HDMI has been around since late 2002, with updates to the specification following at least annually, and sometimes more rapidly, ever since. The most recent was HDMI 1.3, released almost year ago, and even that's received two minor updates since then.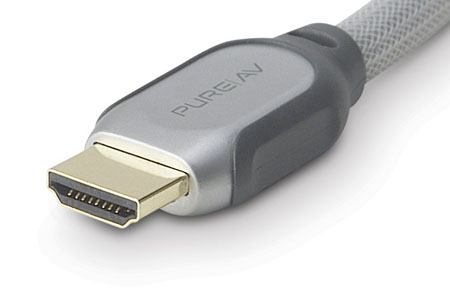 HDMI: the HDTV favourite
HDMI's raison d'être is to channel uncompressed digital video and audio from source to display, along with control data to allow, say, your TV to turn on as soon as you press play on your Blu-ray Disc player. Information flows the other way, to let the TV to tell the player what resolutions it's capable of showing, saving the user having to set it up manually.
And not just pictures: HDMI does sound too. The basic HDMI spec has bandwidth for eight-channel, 192kHz uncompressed audio, along with a variety of compressed audio formats like DTS and Dolby Digital. On the video side, it can handle standard- and high-definition pictures at all the standard resolutions.
The various specification updates have largely added the ability to channel other CE formats - DVD Audio in HDMI 1.1, for example, and Super Audio CD in HDMI 1.2. But version 1.2 began the process of beefing up HDMI's suitability for computers.
Most HDMI-equipped devices on the market currently use HDMI 1.1 or 1.2. However, HDMI 1.3 was a big step forward, boosting the connection's bandwidth to enable it to host much larger screen resolutions than HD TV's maximum 1080p - a crucial move if the connector format's to be used to link even not-so-high-end graphics cards to big monitors. This was a bold statement of intent that HDMI's supporters want the standard to be embraced by the computing world.
DVI's Dual Link mode provides bandwidth-boosting technology to drive screen resolutions of 2560×1600 and beyond. Until HDMI 1.3 increased its signalling clock speed from a peak of 165MHz to 340MHz, the CE format couldn't deliver the picture data fast enough to show images of that size. Now it can. That said, the higher-bandwidth mode, dubbed 'Type B' to the original HDMI's 'Type A', has a different connector. An HDMI 1.3 device can support Type A and Type B connectors; an HDMI 1.2 device can only support Type A. But not all HDMI 1.3 equipment has Type B ports.
HDMI also provides for more complex methods of modelling colours. Previous versions allow colours to be represented as 8-bit values in either the RGB (Red, Green, Blue) or YCbCr (luminance, chrominance blue, chrominance red) component colour modes. HDMI 1.3 can also handle 10-, 12- and 16-bit colour, radically increasing the number of colours that an image being sent to the display can contain. All this paves the way for better-looking TV pictures, but it's really about delivering higher quality images for folk who really need them: computer-using graphics and video professionals.