iLuv 9200 iPod-friendly four-disc CD player
Sonic stunner
Review Amplified iPod speakers sets are ten a penny these days, but most of them assume your MP3 player is your only sound source. iLuv's 9200 is very different. It embraces the CD, packing in four disc spindles in addition to the iPod dock. But is the 9200 nothing more than a cut-price B&O wannabe - or does it deliver a quality audio experience whatever music you pump through it?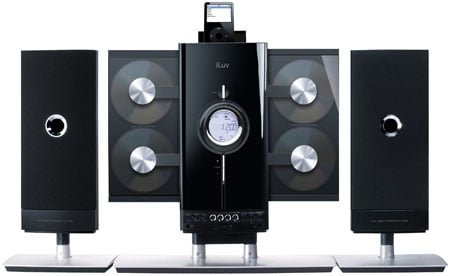 iLuv 9200: back in black
It's no lightweight, that's for sure. Out of the box the 9200 has all the heft of a small LCD TV. The main unit is packed in with a clip-on stand and two satellite speakers, each with their own clip-on stands. The stands are optional: the 9200 comes with a set of screws, rawlplugs and a drill-hole map for wall mounting. In fact, that's possibly the best configuration - the 9200 is a large unit that won't sit comfortably next to most TV and AV stacks. This boy is designed to stand alone.
And not just in terms of its looks. There's no auxilliary sound input, so you can't hook it up to your DVD player, games console or any other sound source.
No, the 9200 is your classic 1970s music centre concept brought up bang to date for the iPod era. For your listening pleasure, it has a top-mounted iPod dock, a built-in FM tuner and that in-your-face quartet of CD drives. And that's it. There's not even a 3.5mm microphone socket. There is at least a 3.5mm headphone socket, round the front.
The back of the 9200 has just three audio connectors - two wire-clips for the speakers and an RCA jack for an optional sub-woofer - a two-pin power port and a fixed radio antenna wire. No more, no less.
Just as well, then, that it sounds so bloody good. The speakers units each contain two cones: a 45mm tweeter and a 90mm for the mid-range frequencies and bass. MP3 and AAC files inevitably lose detail in the higher frequencies, but the 9200 sounded particularly strong on the trebles, nicely balancing the lower frequencies and avoiding the flatness you often get when lossy audio formats are played out loud.
Sponsored: Minds Mastering Machines - Call for papers now open