Minister goes mad for Web 2.0
Miliband drinks the Kool Aid
Miliband lauds OhMyNews, the Korean "citizens journalism" site. But OhMyNews, as Koreans know only too well, is a nasty, partisan political operation - a kind of Fox News - that only flourishes because it doesn't pay its volunteer contributors. It profits from what's called "digital sharecropping". If this is a new spirit of volunteerism, then so is the Church of Scientology.
As for new modes of production, or a new spirit of sharing, Miliband makes a very common mistake. What we're experiencing is an explosion of low-cost recording technologies. Much of what they record - and what Google indiscriminately caches, like a listening bug in the corner of the room - was never intended to be recorded. Much of the rest was never intended to be "published" - merely spread among one or two family members or friends. The internet has given us "a telephone network with pictures", if you like, which we can all put to use. But to describe this as a new form of production is like claiming that the listening device is creating the conversations it records. Once one has made that mistake, it's very difficult to see things clearly again.
No wonder the Rt Honorable Member for Google (South Shields) is confused, for when some people fall into digital utopianism, they fall in all the way - and when they bob back to the surface, it's with what looks like a shiny, new, off-the-shelf belief system. From then on, it's hard to persuade the sufferer that they're fantasising about the world. Miliband has a fantasy version of technology, breaking off only to plug his "carbon trading calculator".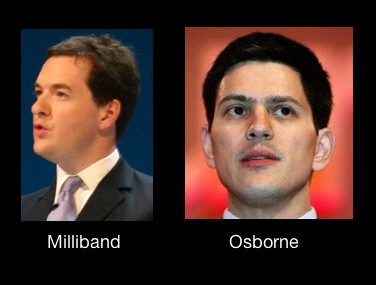 In keeping with the Web 2.0 rhetoric, Miliband's is religious. Take this purple passage:
Instead of citizens acting in isolation, unsure of whether their actions are reciprocated by others, feeling powerless in the face of large organisations and global change, citizens can feel part of a bigger project. They can create a shared willingness to act, their preferences can be aggregated, and can give rise to collective action as well as collective discussion.
And life has meaning again. We'll check the video at some point - and see if there were any hallelujahs.
But for a moment, let's take the Minister at face value. What politicians like Miliband and the Conservative Shadow Chancellor George Osborne - another web fantasist apparently cloned, as you can see, from the same incubator (Millibourne Industries?) - are describing is how they see society ordered. It's technocratic, and the role of the politician in this machine vision is merely to provide lubricant for the great, benevolent actors.
Unfortunately, the near-identical policies of our parties are designed to make life easy for them. Planning controls are dropped and democratic checks and balances are discarded to ease the path for who really runs the country - Tesco, Google (a newcomer), and the nuclear industry.
With so many teenagers pouring out their most intimates on the web, into MySpace and Facebook, some press pundits are wondering if these careless candid thoughts will one day come back to haunt them when they're running for political office. These pundits have got it wrong. It's not their adolescent indiscretions, but the things they said last week that we should take notice off. Especially when they start acting like teenagers. As our "future Prime Minister" just has.
Empowering comments welcome. ®
Related link
Sponsored: Minds Mastering Machines - Call for papers now open