Greenland zinc mine warms to retreating ice
The economic benefits of global warming
Pessimists convinced that global warming will eventually bring about the destruction of humanity should take note that there's one piece of cheering news to come from the inexorable retreat of the polar ice caps: we won't be short of top-quality zinc as we all go to hell in a handcart.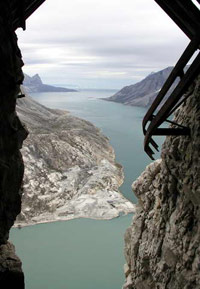 That's according to mining company Angus & Ross, which yesterday said that Greenland's melting ice will allow it to reopen the Black Angel mine for eventual year-round exploitation of the four million tonnes of high grade lead and zinc reserves it still contains.
Black Angel mine closed in 1990, Reuters reports. The problems associated with extracting its resources included the fact that its entrance lies 600 metres above the sea in a cliff face, and its ore had to be transported by cable car across a fjord to the shipping area.
Then, of course, there was the weather. Angus & Ross's chief operating officer Andrew Zemek explained that while the shipping season used to be a mere four months, global warming meant "today it's eight months and it will soon be 12 months".
Further benefits of retreating ice include increased exposure of rock for perusal by mining geologists and the possibility of "a more direct northwest passage for shipping between Greenland and metal-hungry Asian countries", as Zemek put it. Eventually, if the Arctic ice disappears completely, an even shorter route across the pole might be possible.
Angus & Ross detailed its plan for Black Angel to a zinc seminar in Madrid yesterday. It's hoping to finalise $30m funding for phase one of the project this week, which will enable it to eventually "restore the mine's original cable car, fit a second one, and later on build a suspended conveyor belt to transport the ore".
The Black Angel mine's "proven reserves" contain 9.7 per cent zinc and 3.1 per cent lead, according to Angus & Ross's pre-feasibility study. Once they're gone, there's plenty of newly-uncovered Greenland to be exploited. Zemek told the seminar: "Greenland is grossly under explored." ®
Bootnote
There are more snaps of the Black Angel mine and its environs here.