The real star of this TV's line up of technologies is its 100Hz, 4ms response time. A criticism often levelled at LCD is the struggle it has delivering a realistic image and dealing with fast-moving images. However, the performance of this set does much to dismiss many of the complaints. Put simply, an LCD image remains visible until another image replaces it. The faster the next image comes along the more natural the picture looks and the more readily the TV can deal with fast-moving images. During TV mode the set delivers a more natural picture and is more comfortable to watch than some of its competitors.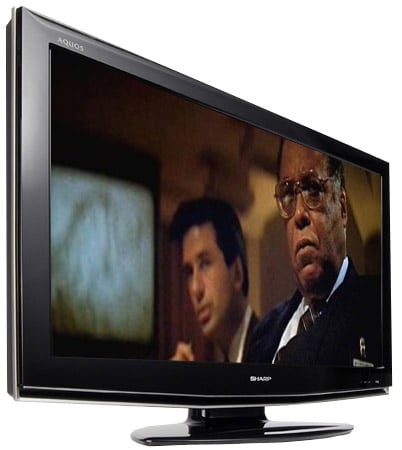 The last day of the Carling Premiership season provided ample fodder to sample this. There are plenty of other sets out there that can out-perform the Sharp in this department, but they would be considerably more expensive and they would also probably be a plasma. This Sharp definitely sets a new standard for fast images on LCDs of this size.
On to a DVD test, and I decided to set the Sharp a challenge by hooking up a rather ancient DVD player and an old copy of The Hunt for Red October. Happily the set coped well. Movement was life-like and flesh tones were particularly good. The movie presents a colour gamut of grey or dark seascapes and internal submarine shots, which can look a little flat. However, the Sharp did well and delivered colours close to those which director John McTiernan had probably hoped for, although it could do nothing about the more-Scottish-than-Lithuanian accent of Mr Connery.
Good black levels are what all ambitious TV designers dream about, and also here the Sharp does well. Giving the set a break, we hooked up a more heavy-duty DVD player and decided to go with leather-clad goth-fest Underworld, to see what the set could do with really dark scenes. The opening sequence is a rain-soaked urban street sequence, the kind that modern film makers love, as dark images are a visual short cut to produce atmosphere. Unfortunately, many sets can't cope with this technique.
Yet again, the set came through, giving good detail even down to the rain drops dripping of Ms Beckinsale's figure-hugging outfit.
The only place where the picture struggles a little is when dealing with thin in-picture elements, a flag pole, say. These can look like they have a little noise around them.
COMMENTS
Interesting, but...
...once again, what's your DVD player setup? It's a massively useful bit of information that seems to never be mentioned, despite upscaling being a big issue for people with large DVD collections.