Fujitsu 'first' with single-chip H.264 video processor
Fujitsu has taken the wraps off what it claims is the first ever single-chip video decoder capable of numver-crunching the H.264 codec at HD resolutions.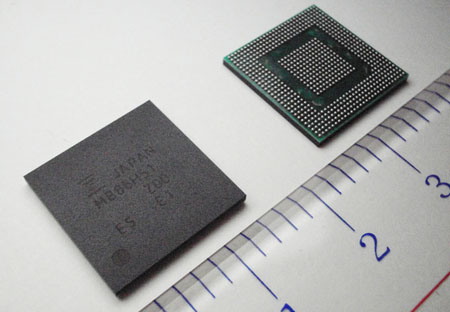 H.264 is part of both the Blu-ray Disc and HD DVD next-gen optical disc specifications and it's the basis for many HDTV broadcast services around the world, so decoding H.264-formatted content is a crucial element of modern consumer electronics kit. The Apple TV uses the non-HD version of the standard, for instance.
Fujistu's chip, the MB86H51 is designed solely to convert video content back and forth from H.264 at a rate of up to 20Mbps. It has 32MB of on-board memory and runs at a speed of 27MHz - though it consumes a mere 750mW when encoding 1080i HD images.
Still, the part has its limits: it will work with interlaced 1080i images at 50 and 60 fields per second, but it's not (officially) capable of churning through progressive, frame-by-frame 1080p pictures, considered by many to be the true 'full' HD resolution.
And while it will handle an array of common digital audio standards, it will only decide two-channel, stereo soundtracks.
Even so, Fujitsu said its chip will find a home in an array of equipment from camcorders to DVRs and even security cameras when it becomes available to hardware manufacturers later this year. Samples will be made available in July.
Sponsored: Minds Mastering Machines - Call for papers now open