Lawsuit targets Apple over laptop display dithering claims
PCs now better Macs than MacBooks are?
Apple has found itself at the receiving end of a lawsuit alleging it played fast and loose with the way it promoted the abilities of the displays it builds into its MacBook and MacBook Pro notebooks.
The complaint claims said screens aren't up to scratch and that Apple knew as much when it said they were. Filed by two San Diego men, the lawsuit seeks class-action status to allow other aggrieved punters to join in.
Specifically, the allege that while Mac OS X can display millions of colours, the screens themselves can't, relying on an old technique, dithering, to display un-reproduceable colours by mixing up colours that can be shown by the monitor.
The result, the lawsuit alleges, are screens with a "grainy" and "sparkly" appearance. When buyers complained, Apple representatives told them not to be soo picky, it's alleged.
It's a tricky fight to win. What the plaintiffs assumed from Apple's claims that its notebook displays can show "millions of colours" - as all the laptops' tech specs and other collateral state - was that they could operate with a 24-bit colour depth: in other words, use three 8-bit bytes to record, respectively, red, blue and green values used to determine each pixel's colour.
If the lawsuit is correct, in as much as the MacBook and MacBook Pro's displays are not 24-bit or higher, then Apple can still maintain they show "millions" of colours, albeit millions kludged out of a smaller number of 'real' colours.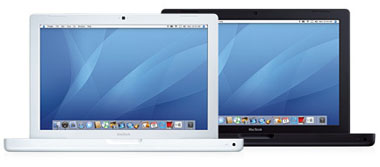 Apple's MacBook: does the display dither?
But if Apple hasn't broken the letter of the law, it has, if the lawsuit's claims about screen specifications are true, gone against the spirit of the law - and, indeed, the spirit of the Mac, which has always been about delivering top-notch colour reproduction. That's a key reason why designers and photographers have flocked to the platform over the years.
If the lawsuit is correct - and Apple has yet to respond one way or another - then they may find that the modern PC is actually more in tune with the Mac's visual ethos than Apple's own machines are.
Sponsored: Minds Mastering Machines - Call for papers now open