Screen stars: Ten HDTVs on test
Time for a new gogglebox?
Pioneer PDP-5000 EX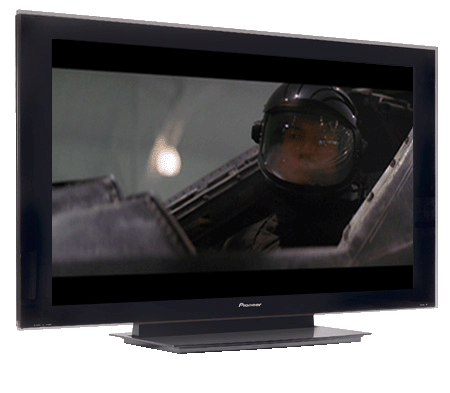 You have to admire Pioneer. When every other manufacturer has finally caved in and now treads the LCD route, it is doggedly sticking to its plasma-driven faith. But when it produces sets like the 5000 EX, you can't help but be glad of its tenacity.
Seriously, just look at it. It drips style from every one of its 50 piano-black surrounded inches, its understated glamour designed purely to draw you into that massive screen. And although the Pioneer has been available for over six months now, it still remains one of the most technologically advanced TVs on the market.
Running with full 1920 x 1080 resolution, 1080p status so it can show the very best image possible without resizing or cropping, Pioneer has endowed the 5000 EX with bountiful connection options: dual audio, composite-video, s-video, BNC, DVI and two HDMI ports. There's nothing so crass as a digital tuner or even speakers included either - all that room is purely catered to creating the best picture possible.
And that it does. Turning on the 5000 EX is a joy, its picture so pin sharp perfect you'll become aghast to look at any other set. Colour reproduction is perfect in its intensity, rendering every scene from the Le Parkour highs to ball-crushing lows of Daniel Craig's first Bond adventure in Blu-ray with absolute authority. Blacks are as dark as the TV's frame and contrast beautifully against the icy whites thanks to the PureBlack Crystal Panel and phenomenal picture processing technology.
Buy one, mate it with your no doubt already comprehensive home cinema set-up and you won't regret it.
Pioneer PDP-5000 EX
---
Best for the next generation
Pure picture prowess by the bucketload in a sleek black surround...
Loewe Individual 32 DR+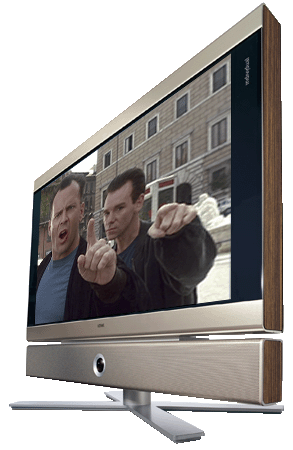 Oh my, that's not a telly, it's a work of art. Er... no... actually it is indeed a television, and a darn serious LCD at that, despite the pretty-boy exterior. Loewe has a well-earned reputation for providing haute couture kit with a top-end price tag and the aptly named Individual is true to form, described in the marketing bumf as the first "design-it-yourself television".
Luckily, this doesn't mean blindly tinkering with motherboards and adjusting colour temperatures, but instead refers to the Individual's colour options, unique removable side panels and various stands, all of which come in a variety of high-priced hues and textures so you can, ahem, 'individualise' your telly to your own very specific tastes. Classy. Delivered with the default silver stand and side panels - and still beautiful - we personally opted for the dark wood panels in a knowing nod to the ebony-encased goggleboxes of yesteryear.
But don't let those good looks fool you, because the Loewe is even more beautiful when turned on. Encased in that sleek surround is a fully enabled HDTV, Freeview box and, in the top-end DR+ model, an integrated DVR called Loewe Digital RecordingPlus - just one less box to clutter up your life.
Image-wise, we're looking at a 1366 x 768 pixel resolution, so not full HD, but blindingly good nonetheless. Hooked up to our Sky HD box and enjoying a late night hi-def viewing of Ray, the smoky darkness of the jazz clubs caused few problems, while the soulful croak of Jamie Foxx's vocals was done serious justice by the rather puny looking but great performing CRX sound system.
While its audio and visuals are no match for the likes of the Pioneer and Philips, the Loewe offers excellent functionality married to a serious style statement, albeit for a large hole in your pocket.
Loewe Individual 32 DR+
---
Best for style
Beauty isn't skin deep with the Loewe, but it does come at a price...
Verdict
In truth, there isn't a single television in this test that failed to pass muster with its head held high. Every one of them kicks out a picture so superior to what we are used to that they will all increase your viewing pleasure immeasurably. For quality all-roundness, we gave the Samsung LE52M87 our recommendation, but if money was no object, we'd have to go with the Pioneer PDP-5000 EX for its all-round perfection and pictures so clean you could eat your dinner off them. Unless we were professional footballers of course, where we'd have a 103in Panasonic in every room. Natch.