Screen stars: Ten HDTVs on test
Time for a new gogglebox?
Panasonic VIERA TH-42PX700B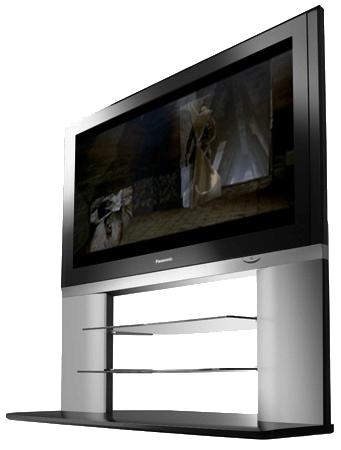 The inclusion of a second Panasonic is indicative of the company's expertise when it comes to manufacturing the old gogglebox. Because the reason we felt compelled to include the ludicrously oversized TH-103PF9 is echoed in the TH-42PX700B - it's a set of similar quality, using many of the same superior image processing engines but at something like a quarter of the size and, more importantly, a tiny percentage of the cost.
The 42PX700B is another handsome-looking TV proving that black is back as the AV enthusiast's colour of choice. Panasonic has, however, teamed it with a silver stand as an option, which we must say really doesn't work - the cheaper models come with a black stand and are far sexier.
Alongside standard connection options, the 700B features a front-mounted SD card slot that's high-capacity SDHC compatible and is capable of playing H.264 HD movies you've recorded using your HD camcorder - see our recent camcorder group test for some top models. There are three HDMI slots - two on rear, one on front - for all your HD peripherals, which Panasonic uses to full advantage with its Viera Link feature. An HDMI cable carries control signals alongside video and audio, so you can use your Viera remote to control your DVD recorder, HD camcorder and anything bearing the Viera Link icon. It makes for instant access and supreme ease of use with whatever you want to watch or record.
Visually and sonically, the 700B is everything we expected. Using the Vreal2 processor optimised for 1920 x 1080 full HD resolution, the 1080p Digital Processing chip-set means pictures are as good as they get whether from an HD source or through upscaled standard-definition broadcasts. Another strong year for Panasonic then.
Panasonic VIERA TH-42PX700B
---
Best for functionality
Panasonic's user-friendly Viera Link system brings ease of use to high end technology...
Samsung LE52M87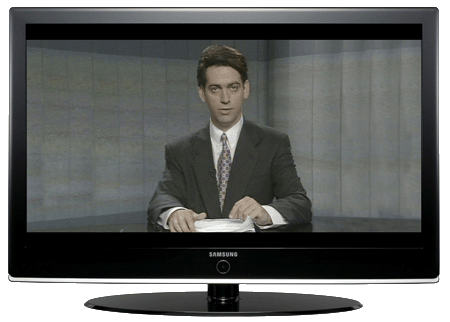 Samsung's newly launched, range-topping M87 series is the company's most ambitious line of HDTVs yet, offering full HD 1920 x 1080 resolution for unparalleled 1080p image quality. Claimed to be the perfect solution for technophiles who don't want to compromise on image quality and build, the M87 is a sweet-looking bit of kit with a finish blacker and shinier than Darth Vader's helmet. Hubba.
In testing, we opted for the extravagant 52in model because we're show-offs, though there are 37, 40 and 46in models in the range. No matter what your choice, each set incorporates three HDMI ports - two on the rear, one on the side for easy access - so you can hook up your Sky HD, Blu-ray player and Xbox 360 all at once without having to fight the spaghetti forest each time you want to change peripheral. Alongside is the usual bountiful array of connections in component-video, s-video, two Scarts, RF, VGA - aka 'PC input' - et al.
Flick the On switch and the M87 - darn it, we love that assualt weapon-sounding name - really comes into its own. Wearing that 1080p status with panache, images comes to life in stunning quality with eye-popping detail and mind-bending clarity. The Super Clear Panel technology for absorbing external light, combined with the huge 15000:1 contrast ratio, gives every image punch and vibrancy, whether you're watching an old episode of Frontline or a late night The Dish DVD with the proprietary Movie Mode enabled.
But for us where it really came top life was with gaming. Flick on the Gaming Mode, and using that 8ms response time a quick blast of Motorstorm on the PS3 left us agape at the quality of image on display. Quite simply, with no banding and no noise on the huge balls of fire as we smashed our WWII motorbike into rival juggernauts, there's no question that for gaming, the Samsung offers one hell of an immersive HD experience.
Samsung LE52M87
---
Best for all-round use
Samsung gets its game on with the cool-sounding M87 full HD series...
Sponsored: Minds Mastering Machines - Call for papers now open