Screen stars: Ten HDTVs on test
Time for a new gogglebox?
Group Test The world of TV is changing, as HD hits the mainstream and digital broadcasting finally overtakes analog. There are myriad options available too, from plasma to LCD, little to gargantuan and everything in between. One for every flavour then...
Evesham Alqemi 32TX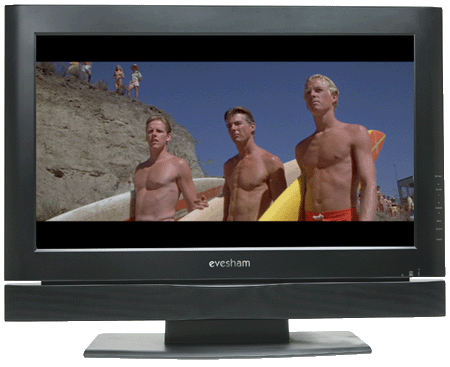 Evesham's Alqemi 32TX sits at the very bottom end of the main room HDTV price range, coming in at a frankly gob-smacking £500. Which immediately raises the eyebrow of suspicion - for how, we ask, can they possibly have produced an HDTV worth turning on for such a pittance? The answer, it seems, is by doing everything just well enough to make it good value for money without ever going overboard.
Take the design, for instance: in no way offensive, it's not exactly easy on the eye either, sporting a distinctly plasticky black livery and single speaker that gives it a gap-toothed, awkward look. Any styling faux pas is instantly remedied, however, by the amazing connectivity. Two Scarts, s-video, composite-vodeo, component-video (aka YPbPr), VGA, DVI, 3.5mm audio sockets and HDMI are all in attendance - a list many TVs costing twice as much would be hard pushed to match. Analog and digital tuners are built in and there's a Common Interface slot for TopUp TV. Comprehensive.
Performance is where it counts though, and the Evesham packs a decent operating punch for its price. The native resolution of 1366 x 768 supports 720p HD pictures and competently downscales 1080i, lending impressive detail to the rolling surf in John Milius' Big Wednesday. Contrast is the biggest sticking point with blacks never achieving true depth and whites remaining harsh, but the colour reproduction adequately makes up for it. Sonically, the 32TX is equally impressive, with good vocal clarity and a surprisingly punchy pseudo surround mode with BBE Digital.
For anyone looking to break into the HDTV market without breaking the bank, the Evesham is the best option currently available.
Evesham Alqemi 32TX
---
Best for a bargain
Evesham brings HD big screen TV to the masses with its budget-priced beauty...
Panasonic TH-103PF9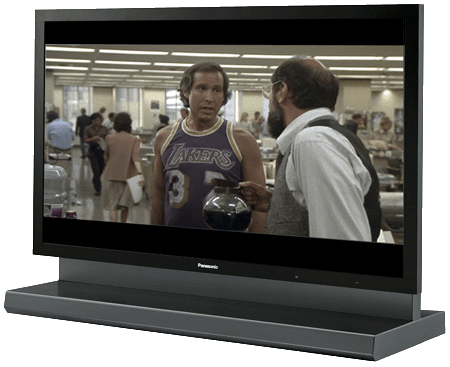 The 'who can produce the biggest TV' battle has been raging for a good while now, with manufacturers striving to go one inch better than rivals and prove their... er... televisionhood. At a recent Panasonic show at London's Heathrow Marriot, we were treated to the world's largest plasma display panel yet, offering a ludicrous 103in (2.6m) of viewing pleasure. With over two million pixels on display and enough screen to accommodate four 50in plasmas...
When you're dealing with something of this size, you are naturally limited in terms of style. Panasonic has wisely opted for a simple black surround and stand, uncluttered by buttons and paraphernalia, to keep it as minimalist as possible. Though it would be hard not to imagine this TV being the dominant decoration in anything but the most cavernous of sitting rooms.
Connection-wise, the PF9 is fairly unique in that it has "fluid" options so you can pick and choose exactly what you want with all the latest and regular options from component-video to HDMI available. Flick the Panasonic on and its size only seems to increase as it kicks out a picture we can only describe as huge, in every sense. The true 1080p 1920 x 1080 resolution means this is one of not many true full HDTVs yet available in this country, and it is matched by equally impressive stats, like the 5000:1 contrast ratio.
This all translates into an extraordinary visual experience - one of the best pictures we've ever seen on a television of such gargantuan size. Black and white levels live up to that claimed contrast ratio while colour reproduction and detail is staggering, in no small part thanks to the inclusion of Panny's plethora of picture processing technologies like Real Black Drive System and Super Cinema Mode.
In fact, there are only two problems with Panasonic's showstopper: its price, and having a house big enough to fit it in. Then again, if you have the latter, you probably won't have to worry about the former.
Panasonic TH-103PF9
---
Best for extravagance
Panasonic's mine's-bigger-than-yours argument goes too far with this 103in monster
Sponsored: Minds Mastering Machines - Call for papers now open