Samsung shouts up 'first' 8GB MicroSD card
Need a high-capacity MicroSD card for your phone? Samsung today slipped out what it claims is the world's first card of that kind with a capacity of 8GB - big enough for five DVD-quality movies.
Unwilling to stop quoting big numbers, Samsung also said the card has a peak read speed of 16MBps, falling to 6MBps when data is being written. That's better than a Class 4 MicroSDHC card, the company boasted. It is, but then that's because it's a Class 6 rating, though Samsung shied away from describing its product as an SHDC-compatible item. Many high-capacity MicroSDHC cards are Class 2, though Class 4 devices are available too and Class 6 products aren't entirely uncommon.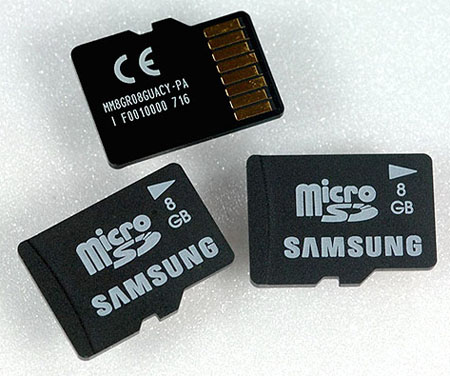 However, Samsung has the edge on MicroSD capacity, though how many handsets out there can actually use its card remains to be seen. Motorola's new Z8 can, and others will going forward. However, Samsung didn't say when phone owners will be able to get their hands on the card.
Sponsored: Minds Mastering Machines - Call for papers now open