Freeloader portable solar energy charger
One thing to fuel them all...
The manufacturer also boasts that the Freeloader is pretty durable. It is, but after a few days of day-to-day bumping about in a bag, something started to rattle in one of the solar panels. To this day, we're not sure exactly what came loose, but whatever it was it didn't seem to affect performance - when the weather permitted a return to testing, that is.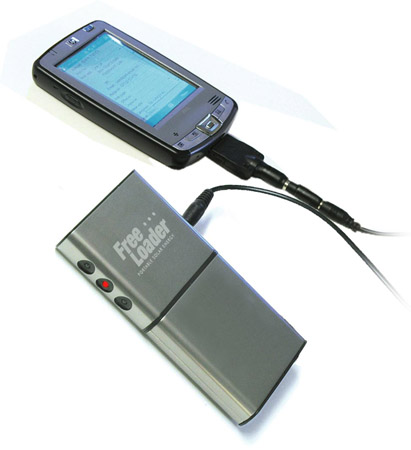 The time taken to power a plugged-in device from the Freeloader depends very much on what it is you're actually charging. The manufacturer claims the internal battery can power an iPod for 18 hours, a mobile phone for 44 hours, a PSP for 2.5 hours and a PDA for 22 hours, and that it will hold its battery charge for up to three months if not used. Granted, we haven't let it sit fully-charged but unused for three months, so we can't honestly comment on that last claim, but once we'd actually had enough sunlight to charge it fully - again, weather conditions will very much affect how long it takes to charge the Freeloader using solar energy - the other claims weren't a million miles away from the results we obtained.
Our iPod Nano charge lasted around 15 to 16 hours. The mobile phone we used was a superannuated, but sentimental Nokia 6170 and that seemed to last for a standard charge time of about 38 hours. The PSP lasted a little under two hours - granted we were playing quite a lot on this - and the PDA equivalent we used was a Samsung SGH-i600 Ultra Edition smart phone, which spluttered and died after a respectable 25 hours.
Verdict
The Freeloader looks great, can take a not-too-hard knock or two and is a nice concept. But the solar panels themselves feel extremely fragile and any of the little adapters could very easily be lost, should your choice of hardware accessories require you to carry a few of them around. It could be something to put in the holiday box for when you travel overseas to your place in the sun. Otherwise, if you're looking to save on your electricity bill... just charge your stuff at work, it's a lot easier, though it won't help you go green...

Freeloader portable solar energy charger
If you live in, say, Sicily, this would be ideal. In rainy old Blighty, it's less useful...
Price:
£25-30 ($49-59/€37-44) RRP