Sony Vaio SZ4 slimline laptop
It's slim but is it a lightweight?
You get a fairly reasonable list of software with the SZ4, including SonicStageCP 4.2, SonicStage Mastering Studio 2.3, DVgate Plus 2.3, WinDVD 8.0, Adobe Photoshop Elements 5.0, Acrobat 8.0 and Microsoft Works 8.5, as well as the annoying trial version of Norton Internet Security 2007. We have to wonder how much of this is relevant to the business user, and in particular Works and Norton seem out of place.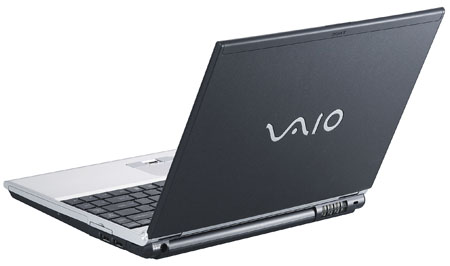 The SZ4's performance is solid if uninspiring. However, the cooling fan makes a steady noise not dissimilar to a small hairdryer. Sony has done an impressive job by shoehorning this much hardware into such a slender chassis, but it seems that the cooling system has paid a price.
Running the standard benchmark tests, the GeForce Go 7200 scored 707 - not bad for general apps, but you'd not want to run games more graphically challenging than Tetris on it. That's reflected in the low-ish PCMark05 graphics rating of 2103, compared to CPU, memory and hard disk scores of 4801, 3890 and 3205, respectively. Overall, the SZ4 scored 4084.
We've got bad news when it comes to the battery life as we only got a mere one hour and five minutes of continuous use from the SZ4. The standard battery is rated at 5200mAh and costs an amusing £139. But the alternative, 7800mAh battery is priced at a scary £279. We reckon this bigger battery should last for one hour and 40 minutes, which is hardly more than the bundled standard unit, so you'd better expect to carry the sizeable 560g AC adaptor supply with you when you're on the move.
Verdict
We have mixed feelings about the Vaio SZ4. It looks superb and has a decent keyboard and a clear, bright, colourful screen. The list of features is likely to appeal to the business user - especially if you can persuade your company to pay for it - and its size will win the approval of individuals who doesn't mind paying a little more to get a machine that's a lot more portable than most. But with such a short battery life it doesn't seem like a practical proposition.
Sponsored: Minds Mastering Machines - Call for papers now open

Sony Vaio SZ4 slimline laptop
A gorgeous laptop - but the price is too high and the battery life too short...
Price:
From £1699/$2050 RRP