Seagate FreeAgent Pro 750GB external hard drive
As capacious as an elephant's scrotum - and as visually appealing?
The drive in the FreeAgent Pro spins at 7,200rpm. It runs quite warm when its powered up and connected, but not hot.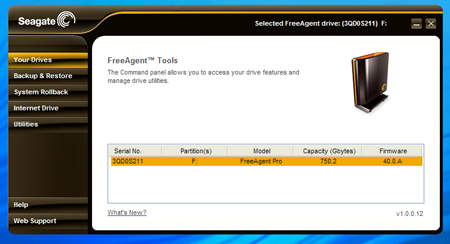 After swapping out the Firewire connector for the USB/eSATA unit, I took the drive and connected it to a Vaio notebook and try out the bundled apps: a drive utility and an automatic back-up package. Both are up to the task and easy to use. AutoBackup monitors your PC's hard drive and copies over new files and folders, and any that get changed, all in real time. It's easy to select specific folders for it to watch or set it to look out for changes to specific types of file - web bookmarks, for example.
The FreeAgent Tools package lets you set automatic system roll-back points - in case an update or a new app messes up your system - and tweak drive settings like the aforementioned orange light and the disk sleep time. Handy to have, but not essential - and downright unavailable if you're a Mac or Linux buff.
One irritation: there's a quick-link icon in the System Tray which runs the various tools but isn't smart enough to maximise their windows when they're already running. Instead, you get a message saying: "Utilities is already running." Helpful? Not.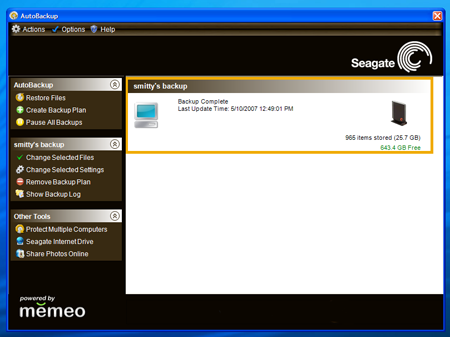 The FreeAgent Pro retails for around £225 inc VAT, though I've seen prices ranging from £215 to £249. It's not a bad price, given the capacity and, in particular, the ports it offers. LaCie has a 500GB d2 Quadra that likewise features USB, eSATA and Firewire - both 400 and 800 - all for £139, which works out better value than the Seagate on a price-per-gigabyte basis and comes with Mac and Windows back-up software, unlike the Windows-only FreeAgent.
Verdict
You either love the FreeAgent Pro's looks - or you hate them. What everyone can agree on is that the drive is not only well capacious and quick, but also - since these are not unique qualities - equipped with a solid array of connection options, including eSATA, which looks set to feature on many more new systems. And the price isn't half bad either.

Seagate FreeAgent Pro 750GB external hard drive
Its love-it-or-hate-it styling encloses a capacious, speedy hard drive. And with an eSATA port it's future-proof...