PowerColor Radeon HD 2900 XT graphics card
Worth the wait?
On the back-plane are a pair of dual-link DVI connectors and an s-video port. The card supports HDMI with the associated HDCP anti-copying system, and while there's no HDMI port on the card itself, expect to see reference board-based products come bundled with a DVI-to-HDMI dongle.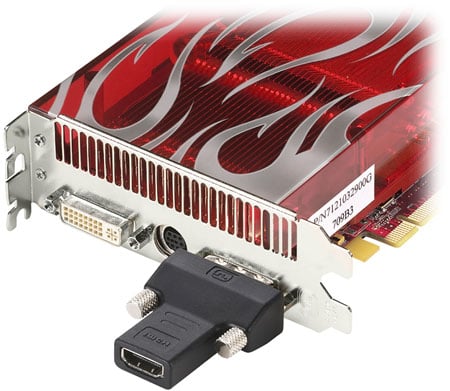 The 2900 XT's HDMI add-on
We'll also see a 30cm (12in) Radeon HD 1900 XTX with a massive 1GB of GDDR 4 memory, but it's only due to be made available to PC manufacturers as it will require an appropriate case and motherboard - imagine Barbara Windsor this time.
Long before the HD X2900 XT came to light there were rumours that R600 had a huge power draw of more than 200W. When we looked at the PowerColor's HD 2900XT and saw that it has two power connectors we noted that one is the usual six-pin while the other is a new eight-pin connector. You can safely plug six-pin connectors in to both points, so this is clearly a nod to the next generation of power supplies. However, it sounded alarm bells, so let's put the rumours to rest.
During our testing we found that the HD 2900 XT draws 70W at idle and 140W when it's working. An Nvidia GeForce 8800 Ultra has very similar figures: 80W at idle and and an operation power-draw of 130W. Given this similarity it's a shame that AMD couldn't match the quiet cooling solution used by Nvidia. The HD 2900 XT is whisper-quiet during Windows duties but when you start gaming the fan spins up to generate a noise level that's similar to a fan-assisted oven. It's not the most imaginative description but the tone is more insistent than a CPU cooler yet 'whine' would be far too harsh a word.
Both AMD and Nvidia have stressed that their DirectX 10 parts have the dual roles of playing back high-definition movies as well as bringing a new level of quality of gaming to the PC. This way of thinking caused us a few problems during testing as there can only be a tiny handful of technophiles who stream Blu-ray Disc or HD-DVD movies from their PC to their HDTV. AMD's Universal Video Decoder (UVD) video engine and support for AC3 5.1-channel audio over HDMI are all well and good but do you expect to use them in the near future?
Similarly, DirectX 10 games are on the way but right now the only games worth playing still use DirectX 9. AMD supplied a 1.2GB DirectX 10 demo and benchmark called Call of Juarez that ran a couple of times but mainly crashed and crashed again under 32-bit Windows Vista Ultimate. We ended up testing in the R600 under 32-bit Windows XP SP2 on an Abit AB9 Quad GT motherboard with Intel 975X chipset, a Core 2 QX6800 processor, 4GB of fast DDR 2 memory and a Western Digital 150 Raptor hard drive.
Sponsored: Minds Mastering Machines - Call for papers now open