LG.Philips shows off 'first' 14in colour e-paper
LCD maker LG.Philips has developed what it claims its the world's first 14.1in colour display that's flexible enough to bend. It announced the "breakthrough" a year on from showing off the first bendy monochrome 14.1in panel.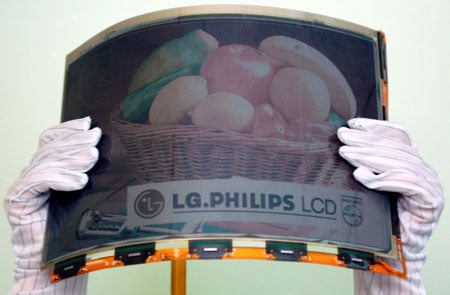 The developer said the panel - roughly the size of an A4 sheet of paper - has a 180° viewing angle and the ability to show 4,096 colours.
Traditional LCD panels place their thin-film transistors onto a glass sheet. LG.Philips' bendy display mounts them on metal foil. Special filters produce the colour image.
The 300µm display is a true e-paper: it only consumes power when the image changes and the picture is retained when the power is cut. The downside is the time it takes to alter the image, making e-paper displays unsuitable for rapidly changing pictures, like video and games.
LG.Philips didn't say when the display might appear in devices you can buy, but we'd say it's some way off. Last week, e-paper pioneer E Ink unveiled a 9.7in eight-greyscale panel, the largests it's made to date. Colour panels have been show in the past, but as yet none have made it outside the lab.
Sponsored: Minds Mastering Machines - Call for papers now open